Prada makes rapid progress to Hong Kong IPO
Feb 24 - Italian fashion house Prada is quickly moving toward a Hong Kong listing thanks to a more favorable regulatory environment in Asia, Chief Executive Patrizio Bertelli told an Italian newspaper.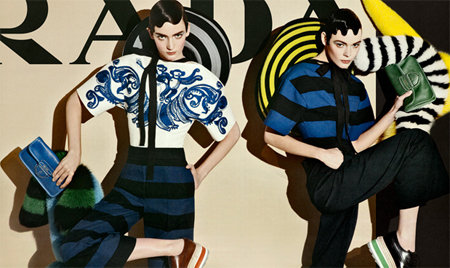 Prada's campaign for the S/S 2011 collection for women
Prada's board gave its green light on January 27 to an initial public offering (IPO) in the Asian financial center that could value Prada at more than 6 billion euros ($8.25 billion).
"Hong Kong welcomed us with open arms. The mutual recognition of Italian law, which normally takes three months, was done in only 15 days," Bertelli, who is married to designer and owner Miuccia Prada, was quoted as saying in an article published on Thursday in La Repubblica.
La Repubblica also said the market debut should take place between June and July and that Prada would list between 15 percent and 20 percent of the group.
Of this, 10 percent would be shares held by the family owners and 5 percent from creditor bank Intesa Sanpaolo of Italy.
If successful, the much-awaited deal would make Prada the biggest European fashion brand to float in more than a decade and the first Italian company to be listed in Hong Kong.
(Reporting by Lisa Jucca)
© Thomson Reuters 2023 All rights reserved.