Première Brasil establishes itself in the Latin-American textile world
When it created Première Brasil 2 years ago, Première Vision admits that it was simply making use of a space that was unoccupied. However, by relying on its local industry players and on the know-how of its international team, the French trade show organisers seem to have found their Latin American brands.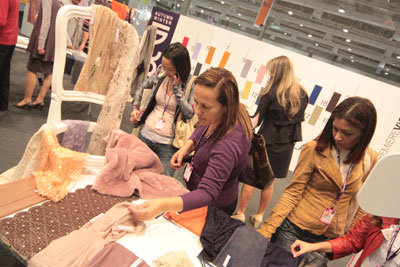 Première Brasil
For its fourth edition, which took place from July 20th to 21st, the Sao Paulo-based textile fair had to once again find a bigger hall to host the event. "We've had to find a larger space for each new edition of the trade show", explained Première Vision's deputy managing director, Jacques Brunel. "When we look at the dynamics in that part of the world, especially in Brazil, the potential is huge. Our vision has always been to create a fair that would respond to the needs of buyers coming from all of Latin America and not only Brazil."
And the organisers are stepping up to the challenge. With the help of the Brazilian Textile Industry Association (ABIT) and of promotion agency Apex Brasil, the trade show seems to be attracting more and more international interest. "We have welcomed exhibitors from 19 different countries this season", said Carolina Riente, manager of GL Events' subsidiary Fagga. "For six countries, China, the US, Japan, Peru, India and Argentina, it was the first time they participated. This adds a huge diversity to our product offering".
More than 40% of the 121 exhibitors came from overseas. This diversity undoubtedly played a role in attracting buyers. The aisles inside the hall were always full of people, with the Glam and City and Denim sectors attracting several visitors. "The attendance rate was very good", estimated Savyon's export manager Laurent Prout. "There was also great diversity among visitors, with Brazilian ones coming not only from Sao Paulo but from all corners of Brazil. As the export manager, my job in the previous editions was more to support the teams, but this time I ended up making many contacts with people from Colombia, France, Spain and even Japan".
International buyers indeed seemed to be impressed with the trade show's wide product offering, although some regretted the fact that many Brazilian industry players did not wish to export due to logistic reasons. "I was interested in several exhibitors that I saw at the fair", said Spy's director Andrew Rial who came from Montevideo, Uruguay. "I even found all of the materials that I came looking for."
In a short amount of time, the trade show seems to be establishing itself in Brazil and the country's 30,000 textile industries. Now all that is left is to become a must-attend event at an international level. Even though the organisation explains that it does not wish to cut corners in its development, it has announced that it will once again change locations for its next edition (January 18-19). The Center Norte hall is said to be more spacious as well as closer to the town centre and transport facilities.
Copyright © 2023 FashionNetwork.com All rights reserved.