Première Vision Pluriel expects 1,700 exhibitors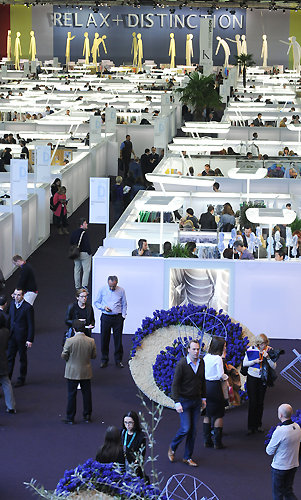 Première Vision in February 2011
Following its September edition, which received many visitors but was nevertheless marked by some reluctance on their part, Première Vision Pluriel knows that the global economic environment remains uncertain and is thus organising its next edition with an awareness of the decline in consumer spending. From February 14-16, the fair's exhibition centre in Villepinte (Paris) will gather 1,700 visitors from various countries.
The event will be as usual made of 6 complementary trade shows. To help visitors discover new products and suppliers and organise their sourcing, every year the fair designs buying guides known as 'Pluriel Experts Trails' which mark out specific themes across the six shows. For the February 2012 edition, the first theme will be dedicated to lingerie, allowing visitors to discover yarns for wovens and knits, as well as lace and embroidery and other accessories related to the sector. The second theme, named 'Plastic Look', will invite visitors to explore "glassy, smooth, rubberised yarns. Fabrics, leathers and accessories that are coated or covered in film, with crackled, polished, melted or crystallized aspects."
'Première Vision', the biggest of the six trade shows, will welcome 675 exhibitors, with the arrival of 24 new companies, 5 of which are multiplying or diversifying their offer. Italy will be the most represented country with 350 exhibitors, then France with 88, Turkey with 56 and Japan with 29.
As for Expofil, the fair will gather 36 exhibitors coming from 20 countries, which is a 9% rise compared to February 2011 (33 exhibitors). The trade show specialised in yarns and fibres announced that it will present yarn like a piece of jewellery, which gives to the fabric a multiplicity of shaping and fine and precious new qualities.
Another 156 exhibitors of 18 different nationalities will be attending Indigo, which will contain 12 new studios. The United Kingdom will bring the the largest number of exhibitors, even more than France and Italy, with 44% of the total against 39% in the last edition. Outside of Europe, the United States will be the most represented country in this trade show dedicated to textile design and creation.
As for ModAmont, the fair of trimming and supplies for fashion and design, it will gather 264 exhibitors from 23 countries, with 17 newcomers. The February 2012 edition will be the first time that the trade show is 100% controlled by Première Vision SA.
The leather and fur specialist show, Le Cuir à Paris, has announced 287 exhibitors of around 20 nationalities, with 17 also exhibiting for the first time. 52.7% of the offer will come from Italy, 19.5% from France and 12.6% from Spain. As for its offering, 60% will consist of finished leather products.
Zoom by Fatex is expecting 130 exhibitors from Europe, Mediterranean Basin, Madagascar and Mauritius. Dedicated to fashion manufacturing (ready-to-wear men/women/children, bags, shoes), the fair will focus on European manufacturers and leather accessories.
In February 2011, Première Vision Pluriel's six trade shows registered a total of 55,792 visitors, +6.5% than in February 2010, despite the rise in raw material prices which was a big worry for industry professionals.
Copyright © 2023 FashionNetwork.com All rights reserved.