Puma looks to football in Africa
Puma wants to reduce the distance between themselves and the two sports leaders, Adidas and Nike. This football World Cup, the first in Africa, offers plenty of opportunity for the feline brand that has been present on the continent for a long time. Just days before the kick off of the tournament the sports brand has invited three of its sponsored teams, the Ivory Coast, Cameroon and Ghana, to train in a Parisian suburb. As for Algeria, similarly sponsored by Puma and going to the World Cup, they will train at the Bavarian headquarters of the brand.


Africa and Puma: a longstanding sporting engagement. The world's third largest sporting goods maker has not wanted to get involved in a sponsorship bidding war against Nike and Adidas; the African continent with not only football but also music and culture offers Puma the ideal playing field to make themselves stand out.
On the 28th and 29th of May, the "Africa Unity Experience" saw a match with African players, the unveiling of a uniform for the continent and a concert. "Those who have followed us for a while know our heritage. We have been the equipment provider for Cameroon for twelve years. Now, we have thirteen African teams under contract. At the seven last African Cup of Nations, we have support six teams," said Jochen Zeitz, CEO of Puma. For him, working with African teams allows the brand to innovate, citing the design of a kit for Cameroon in 2004 as an example.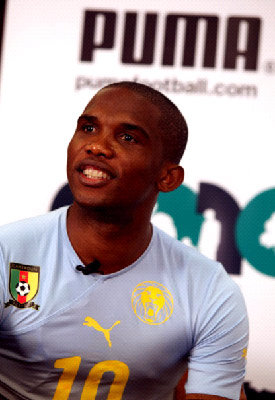 Samuel Eto'o, footballer for Cameroon
With a turnover of €2.5 billion however, Puma remains far behind Adidas and Nike, both of which have sales figures of more than €10 billion. According to the German press, Puma realized €250 million from football boots, the sector that Herbert Hainer, head of Adidas, oversaw €1.3 billion in sales of boots, clothing and balls. For its part, Nike announced sales of €1.5 billion which includes the total from its brand Umbro. Certain observers recall that the history of Nike in football is a relatively recent phenomenon. The brand came to the fore only in the 1990s. For the World Cup in South Africa, Puma will equip seven teams, including reigning champions Italy.
By Sarah Ahssen and Bruno Joly (English version by Jonathan Fulwell)
Copyright © 2023 FashionNetwork.com All rights reserved.