Puma must wake up to outdoor oldies market
By Eva Kuehnen - Analysis
FRANKFURT (Reuters) - World No. 3 sports goods maker Puma (PUMG.DE) risks missing a bonanza as aging populations swap their drinking habits and party clothes for a waterproof coat and a stout pair of walking shoes.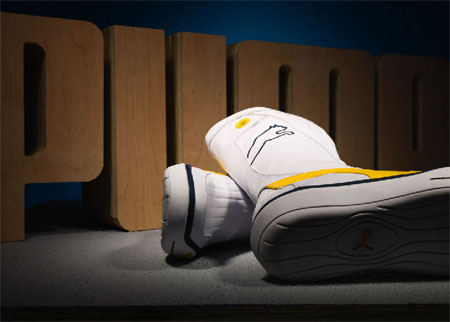 Puma
Rivals Nike (NKE.N) and Adidas (ADSG.DE) are out in front, capitalizing on the trend toward healthier living in a growing section of the population. Puma has yet to make a move on this lucrative sector, and a takeover or two could be the answer.
"It's definitely a growth market on a global level, certainly one that sports retailers and major sports brands should be looking to access," said Planet Retail analyst Bryan Roberts.
"As people move into middle age they tend to look toward outdoor pursuits as something which is more amenable to their lifestyle than nightclubbing."
The European outdoor market grew 1 percent in 2008 to 14.1 billion euros ($19.0 billion), outperforming a 1 percent drop in the European sport market of which it forms a part, market research group NPD said.
There is no data available for 2009 yet, NPD says the market for trekking, hiking, mountain biking and the like has strong growth potential because of the demographics in Europe and other mature markets.
Recession also boosted the industry last year as people chose cheaper camping and walking holidays over long-haul trips to save cash.
The industry itself has also changed, and now sees not only the hardcore mountaineer as its core client but also those who fight their way through the urban jungle day by day.
"Outdoor clothing is for the textile sector what Formula One is for the automotive industry -- the mass market benefits from technological advancements for extreme applications," said Stefan Brunner at market research company GfK.
HIKING UP
Brands like Jack Wolfskin, Fjaell Raeven, and The North Face -- which is part of the VF Corp (VFC.N) -- are among those riding a wave of strong demand for softshell jackets, high traction hiking boots and sporty outdoor pants.
Jack Wolfskin, for example, posted a 22 percent rise in 2009 sales to 251 million euros -- the sixth annual rise in a row.
The German company founded in 1981 said a change in the way people spend their free time was one reason why demand for its products was growing.
"There is a desire to compensate for an increasingly hectic environment by spending time outdoors," the company said.
Adidas's campaign to push its professional Terrex outdoor collection is spearheaded by Alexander and Thomas Huber. They are professional rock climbing brothers, now the faces of the group's latest attempt to crack the outdoor market after several previous assaults failed.
The Adidas Outdoor brand launched in 2007 now boasts annual revenue of almost 200 million euros. Adidas plans to "establish itself as a benchmark in the outdoor sector by 2015."
"I think this is a market which will keep growing in the next couple of years because trekking, hiking and mountain biking are on the rise," Adidas Chief Executive Herbert Hainer said. "We will invest what's needed to be a strong player in this market."
Arch-rival Nike launched its outdoor brand All Condition Gear (ACG) in the early 1980s and has just launched its Nike 6.0 action sports brand. It expects its action sports category to grow at a double-digit rate over the next three years in Europe.
This puts Puma on the spot. The world's third-largest sporting goods maker behind Nike and Adidas has no individual outdoor brand apart from its sailing operations, which it runs under the Puma brand.
Planet Retail's Roberts said "it could be of interest to them (Puma) to access a growing market, but whether or not they could build any critical mass could be a gamble for them."
It could be strategically more significant to push brand presence in places like China, India and Brazil, he added.
A Puma spokeswoman said Puma would continue to follow its strategy to expand regionally, both within its categories and via non-Puma brands. It recently bought the golf equipment brand Cobra for an undisclosed sum.
But the company declined to comment on whether it would expand its outdoor operations. Puma's net cash stood at 450 million euros earlier this year and it said that it did not want to get into debt as a result of an acquisition.
Aside from an acquisition, Puma could copy Adidas and Nike and launch its own brand, or co-operate with other players.
Analysts said a separate brand would make it easier to differentiate its outdoor gear from its lifestyle wear.
And this might be a good time to buy. The industry is under increasing pricing pressure with more players moving into the market and private labels picking up on the trend as well.
"What we will probably see is that bigger brands will acquire smaller brands. And this trend has already started," said Olivier Macard, global retail leader at Ernst & Young, adding that bigger brands had the necessary cash flow.
And as many of the niche brands are family-owned, the problem of succession could also drive some to sell, he added.
One brand that is being closely tracked by potential trade buyers is Norwegian outdoor clothing brand Helly Hansen, owned by Swedish private equity firm Altor.
Jack Wolfskin -- owned by Barclays Private Equity, Quadriga Capital, and its management -- said there were no plans to sell the company.
Whichever way Puma decides to go, Planet Retail's Roberts said a strong position in outdoor wear could be of broader benefit to marketing.
"It fits into the whole healthy lifestyle message and that's a very good one for companies to have," he said.
(Editing by Andrew Callus)
© Thomson Reuters 2023 All rights reserved.