Puma says hit by fraud at Greek joint venture
FRANKFURT/MUNICH, Oct 25 (Reuters) - German sporting goods maker Puma (PUMG.DE) said it would bring criminal charges against its partners in a Greek joint venture after discovering a swindle that could cost it as much as 130 million euros ($181 million).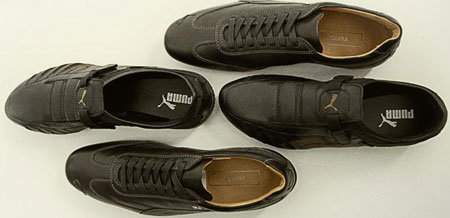 Puma Shoes
Puma said on Monday it suspected that its "Greek joint venture partner, along with members of the Greek local management, has committed a series of criminal acts" based on the preliminary findings of an audit.
"This is about systematic evasion and embezzlement," Puma Chief Executive Jochen Zeitz told Reuters in an interview.
He said it was not yet clear how much Puma would seek in damages from its partners, brothers Georgious Glou and Antonius Glou, who own 15 percent each of the Puma Hellas venture.
Officials at Glou, a non-listed Greek clothing retailer, declined to comment. The two brothers did not immediately return a phone call to their office seeking comment.
Greece is one of Puma's 10 biggest European markets, with annual sales in the tens of millions of euros.
"In the long term, Greece is an important market for us," Zeitz said, but added that Puma would shrink its Greek business -- under new management -- to reflect tough economic conditions in the southeastern European country.
Greece's economy has been pummeled as the debt-choked country tightens its belt to slash its sky-high budget deficit. The unemployment rate there has risen to 12 percent and is set to head to more than 14 percent next year.
Zeitz said that Puma, which is controlled by France's PPR (PRTP.PA), will exercise an option to take over the Glou brothers' 30 percent of Puma Hellas and gain full control.
TAKING A HIT
Puma, the world's No.3 sporting goods maker after Nike (NKE.N) and Adidas ADSGn.DE, said it would have to restate last year's financial accounts as a result of the case.
It will take non-cash write-offs worth up to 115 million euros, most of which applies to 2009. In addition, it will book a 15 million euro one-time charge in the fourth quarter of this year as it restructures the Greek business.
Puma's third-quarter results are due on Tuesday. Analysts expect it to report earnings before interest and tax for the three months through the end of September rose 12 percent to 110 million euros.
The scandal comes days after Zeitz said he would step down after almost 18 years at the company to lead parent group PPR's drive into the sport lifestyle market.
PPR said in a separate statement on Monday it will take a 20 million euro hit to its 2010 net profit. The French luxury and retail group's shareholders' equity could be reduced by as much as 70 million euros.
Puma shares fell 0.7 percent to 249.65 euros by 1100 GMT while PPR stock gained 1.5 percent to 117.85 euros. The STOXX European personal and households good index .SXQP rose 1.4 percent.
(Additional reporting by Angeliki Koutantou; Writing by Maria Sheahan; Editing by Will Waterman and Michael Shields) ($1=.7187 Euro)
© Thomson Reuters 2023 All rights reserved.