Ralph Lauren sees second-quarter revenue drop, shares skid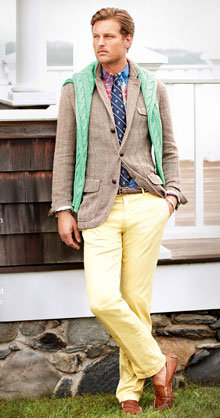 Photo: Ralph Lauren
Ralph Lauren Corp forecast lower revenue in the current quarter, hurt by reduced distribution through partners in China and the shutting of its American Living brand, overshadowing first-quarter growth.
Shares of the apparel maker fell 4.5 percent to $146.55 on Wednesday morning.
Ralph Lauren said it expects net revenue to fall by the mid-single-digit percentages in the second quarter, with a rise in sales at its own stores partly offsetting a reduction in wholesale business with department stores and other retailers.
Profit and sales topped expectations in its first quarter, ended June 30, from the year-ago period.
Despite the stronger-than-expected results, investors were "spooked" by management's cautious stance and bearish comments on the impact of the state of the global economy on consumer spending, and its revenues, said Morningstar analyst Peter Wahlstrom.
The company, famed for its ability to sell a wide variety of clothing - from luxury goods to more affordable brands like Club Monaco - said the economy remains tough.
"The outlook for consumer spending and global economic growth remains challenging and we are planning accordingly," Chief Operating Officer Roger Farah said in a statement.
It is the second quarter in a row that Ralph Lauren warned of the prospect of slower sales. Three months ago, the company had warned of slowing shopping among its European and high-end customers.
During the quarter, Wholesale sales fell by double-digit percentages in Europe, offsetting strong numbers in North America.
Ralph Lauren's sales have been hurt by its decision to phase out stores operated by local partners in China and replace them with company-run stores.
The company's sales will further be hurt after department store J.C. Penney & Co Inc (JCP.N) dropping the American Living brand this summer.
Ralph Lauren said that having fewer points of sale in China and the loss of American Living would help lower revenue growth by 7-8 percentage points.
Net income rose 5.1 percent to $193.4 million, or $2.03 per share, in the first quarter ended June 30, from $184.1 million, or $1.90 per share, a year earlier. Wall Street expected EPS of $1.78 for the quarter.
Revenue rose 4.4 percent to $1.59 billion. Wholesale sales rose 3 percent, while same-store sales at its own stores were up 1 percent.
© Thomson Reuters 2023 All rights reserved.