Rip Curl reinvents rock surfwear for A/W
It's the start of a new season in which both the weather and new trends are pushing for change and renewal. This is happening not only with the world of fashion, but in all areas of life.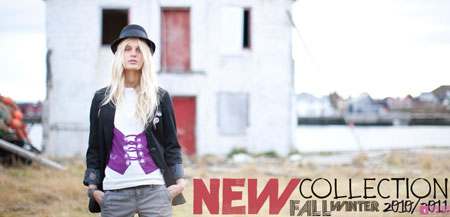 Rip Curl's Pixie collection A/W 2010: rockstar-esque
Making the most of this autumn's start-off, Rip Curl has decided to renew its designs and styles in order to reconnect with the regular customers as well as grab the attention of new ones. The new range provides a selection of basics for this season's looks.
Rip Curl, a leader in sportswear presents a selection of clothes inspired by surfing, nature and music. Its new collection features rejuvenated basics and original accessories that your closet cannot miss out on this autumn.
Its most exclusive line, "Pixie" is inspired by the 80's-90's decade, neo-grunge music and the city of Seattle. It rescues vintage clothing with a dark, rock feeling: stud finishings, bleach- washing and that "perfect" leather jacket cut. Jackets and jumpers in shades of purple pink, electric blue, black and white have all been reinvented.
Rip Curl's "Artist of the Search" (AOTS) chose artist and surfer Tyler Warren to create a line. It started with green product designs inspired by his imagery and surf trips in the 60's, then it was produced with eco-materials like organic cotton.
Rip Curl has also been inspired by the cold Canadian winter and the nature of Vancouver Island to create a range with checked shirts, thick knits, a t-shirt with a feather pattern, long wooly cardigans, to avoid the cold.
Finally the "Gidget" line, named after the protagonist of the novel by Frederick Kohner and legend in the world of surfing, reinterprets vintage surfwear with slim-cut dungarees, buttoned retro jackets and gilets.
Copyright © 2023 Europa Press. Está expresamente prohibida la redistribución y la redifusión de todo o parte de los contenidos de esta web sin su previo y expreso consentimiento.