Saks sees 3-5 new outlet stores a year
By Aarthi Sivaraman
NEW YORK (Reuters) - Upscale retailer Saks Inc (SKS.N) expects to open three to five outlet stores per year but sees little need for additional locations for its core stores, as the U.S. economy remains mired in recession.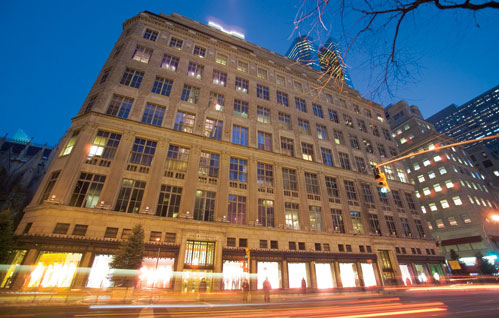 Saks Fifth Avenue
"I don't see lots of new full-line stores," Saks Chief Executive Stephen Sadove said at the Reuters Global Luxury Summit in New York on Tuesday 9 June.
"I think there is some opportunity for some of the outlet stores. We look to ... three to five new outlet stores a year," Sadove said, adding that he expects that rate of growth on an ongoing basis for its Saks Off 5th outlet stores, whose current count stands at 52.
Saks sales have been badly affected in the recession, which saw it resort to drastic measures such as "70 percent off" sales in the 2008 holiday season to attract shoppers and clear out merchandise. As the stock market took a hit in September last year, so did many of its customers.
"Our customer is far more driven by the stock market than they are by the price of gas, or where the price of oil is," Sadove said.
"I feel better today at an 8500 Dow than I did at a 6500 Dow," Sadove said. "I feel very bullish in the long term. You are seeing some of the green shoots people talk about. We are in the early stages of what I would call a recovery."
FALL SALES DECLINE
Sadove stood by a forecast for same-store sales to decline in the mid to high-single-digits percentage range in the second half of the year, which includes the holiday sales season.
Saks has aggressively cut costs as it tries to offset the sales slump. It has targeted a 20 percent cut in inventory for 2009, while it also expects a roughly $60 million reduction in 2009 selling, general and administrative costs.
It has also said capital expenditures would be about $55 million, down from the $60 million it expected earlier.
Its steps to cut inventory support Sadove's efforts to keep the 2008 holiday season's deep discounts a one-time affair.
The company is also sourcing designer merchandise at less expensive prices to lure shoppers who covet luxury but also want to spend less.
"You're going to see a number of more entry price points coming from a number of the brands that you would recognize as being the luxury brands we would be selling," Sadove said.
For instance, the company will sell a $750 Prada handbag, while it had a $1,000 handbag before, though the bags are not identical. Similarly, it is selling a Christian Dior handbag for $950 to $1,000 while there were takers earlier for a different one sold for $1,500.
Saks, which counts billionaire investor Carlos Slim Helu and Diego Della Valle, the CEO of Italian luxury shoe and bag maker Tod's SpA (TOD.MI), among its shareholders, recently faced a call from hedge fund P. Schoenfeld Asset Management to make its board more accountable.
Its shareholders voted last week to ask it to put directors up for election annually, eliminating a staggered board with three-year terms and also for a proposal that would require directors to get at least a majority of votes to be elected, rather than allowing them to be elected with less than 50 percent of the vote.
The Saks board has not met to discuss those proposals yet, Sadove said, adding that it was hence premature to comment further on the matter.
Its shares closed down 3 cents at $3.79 on the New York Stock Exchange. They traded as low as $1.50 on March 10, while they reached a 12-month high of $12.83 nearly a year ago.
(Reporting by Aarthi Sivaraman; editing by Carol Bishopric, Gary Hill)
© Thomson Reuters 2023 All rights reserved.