Samaritaine: decision over former directors delayed until June 24
The Court of Appeals in Paris has pushed back the decision concerning the former directors of La Samaritaine until June 24. Unions have reproached the company for having put the life of employees in danger in continuing to use the store, closed due to dilapidation in 2005.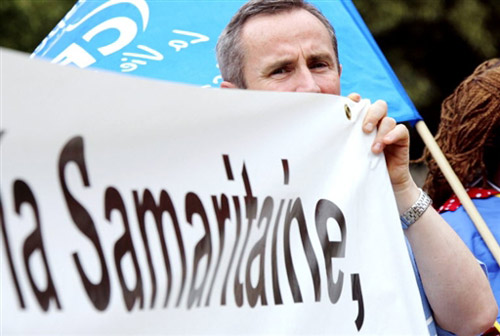 Photo : Franck Fife/AFP
Having been discharged in the first instance, if the directors were to be found guilty their sentences would only be civil.
On the 21st of February 2007 the magistrate's court of Paris discharged the directors of the large store, who had been prosecuted over safety issues.
Some employees, the French Confederation of Christian Workers (CFTC), the Committee of Businesses (CE) and Hygiene and Safety (CHSCT) reproached the management team for having "failed" in its safety obligations.
Only the plaintiffs have appealed this discharge, the prosecution renouncing its involvement. Hereafter, the store's managers will no longer be able to incur penal sentencing (fine or prison). Potential damages and interest are the only matters left at stake.
On the 21st of December 2007, the Court of Appeal again dismissed the plaintiffs, but, one year later, the Court of Cassation annulled this decision and returned the matter to the Court of Appeals in Paris for re-examination.
By Jonathan Fulwell (Source: AFP)
Copyright © 2022 FashionNetwork.com All rights reserved.