Sao Paulo offers array of Brazil gem treasures
July 25 - Sao Paulo is a vibrant hub for jewellery shoppers seeking exquisite and rare Brazilian gemstones set in precious metals. While bargains are hard to find because of high tax rates, determined shoppers can negotiate discounts.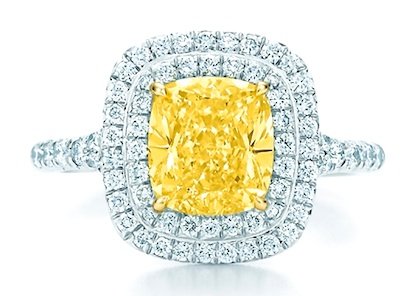 Tiffany Soleste yellow diamond ring by Tiffany&Co.
A weekend visit to Iguatemi, one of the most upmarket shopping malls in Brazil's commercial capital, revealed the abundance of hues of Brazilian gemstones set into fine jewels with 18-carat gold and silver.
Alongside Tiffany & Co's signature collections of diamond rings and pendants, display cabinets showed rings made from Brazilian gemstones, such as green prasiolite, yellow citrine and purple amethyst. One Tiffany amethyst ring set in 18-carat gold was on sale for 6,100 reais.
H. Stern, one of the most famous Brazilian jewellery retailers with branches in Europe, had a section at its boutique in Iguatemi devoted to Brazilian gems.
A ring with an alluring golden orange-brown imperial topaz stone set in 18-carat gold was for sale for 32,320 reais. Imperial Topaz, one of the most exquisite and rare stones in the world, is found solely in one mine in the Brazilian state of Minas Gerais.
Another gold ring at H. Stern, set with an extremely rare green Paraiba tourmaline from Brazil, was available for an even heftier 71,710 reais.
The tourmaline, celebrated for its broad colour spectrum, is favoured by artists, and it is said that the best-known green tourmaline brings prosperity, and the red one, enthusiasm and happiness, according to H. Stern's sales brochure.
Mauricio Monteiro, a Brazilian designer, has a stand-alone store in Iguatemi, which presented a variety of colourful Brazilian gems set in jewels, such as a necklace containing a selection of large citrines, amethysts, emeralds and other stones for around 64,000 reais. A yellow citrine ring set in gold was available for 21,900 reais.
Brazilian tax rates on jewellery are high, at approximately 35-40 percent of the total price, retail sales staff say.
Brazilian retail jeweller Vivara sells a wide range of jewels set with Brazilian gemstones, such as amethysts, quartz and citrine, at more accessible price points, at its shop in Iguatemi. Shoppers can negotiate discounts on some pieces.
Across the city, Brazilian jewellery designer Maria Antonelle showcased her creations at the Casa Cor exhibition, using a variety of gemstones, pearls and rounded forms.
The Casa Cor, located beside the Jockey Club race track, revealed cutting-edge home interior designs and a section showing the work of 16 jewellery designers.
Antonelle uses gems, often from Brazil, as well as precious materials, diamonds, and South Sea pearls in her designs.
"My designs have various curves and forms that suggest movement. Nature is always shifting and undergoing transformation," she said.
Maria Antonelle is part of a Brazilian jewellery scene distinctive for its predominant use of coloured gemstones.
It is a vibrant community of up-and-coming designers experimenting with unusual forms and materials, many of which will be on show at the Feninjer fair, Brazil's leading jewellery trade show, in Sao Paulo from August 3-6.
(Editing by Patricia Reaney)
© Thomson Reuters 2023 All rights reserved.