Signet profit beats Street on market share gains
By Phil Wahba
NEW YORK (Reuters) - Signet Jewelers Ltd (SIG.N) (SIG.L) reported a higher-than-expected quarterly profit as the operator of the Kay Jewelers chain benefited from strong holiday sales and gained market share in the United States.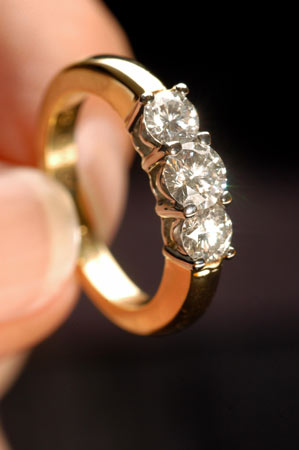 Photo: Newscast
Signet, which also operates Jared The Galleria of Jewelry chains in its U.S. market and H Samuel and Ernest Jones stores in Britain, said the distress of many rivals in 2010 helped it win market share. The U.S. market accounted for 76.5 percent of company sales in the holiday quarter.
"Jewelry customers have certainly been responding a lot more since November," Chief Executive Terry Burman told Reuters in an interview. He added that Signet has benefited as the jewelry market contracted in the past two years and left surviving rivals struggling to compete.
Zale Corp (ZLC.N), Signet's main U.S. rival in the middle market, has struggled with vendors reluctant to extend credit and dwindling sales. Zale is seeking investors for an injection of capital.
A number of other U.S. rivals such as Fortunoff and Finlay Enterprises have also gone bankrupt in the last year, joining the Friedman and Whitehall which folded in 2008.
Tiffany & Co (TIF.N) Chief Executive Michael Kowalski made similar remarks on Wednesday 24 March, citing "many orphaned customers looking for a new relationship.
Signet reported net income of $117.2 million, or $1.36 per share in the fourth quarter that ended January 30, 2010, compared to a loss of $424 million, or $4.97 per share, a year ago.
Analysts had forecast a profit of $1.26 per share on sales of $1.18 billion, according to Thomson Reuters I/B/E/S. Overall sales rose 7.1 percent to $1.2 billion.
YOUR PAIN, MY GAIN
The woes of some rivals and a low debt load have given Signet more clout with vendors.
"As we gained market share, we have become an even more important customer. When you add to that our strong balance sheet and our vendors' confidence that they'll get paid, that gives us first choice," Burman said.
Signet said its U.S. market share doubled in the past decade to nearly 9.4 percent in its fiscal 2010, and estimated Zale had a 5.1 percent share.
As of January 30, Signet operated 1,913 stores, of which about two-thirds are U.S. locations. Sales at its stores open at least a year rose 5.2 percent.
Same-store sales in the United States were up 7.4 percent during the quarter, but fell 1.5 percent in Britain. In contrast, Zale's same-store sales fell 11.2 percent during the holiday quarter.
Signet reported that its gains were continuing so far in fiscal 2011, with same-store sales up 6.4 percent worldwide in the first seven weeks. Sales showed signs of stabilizing in Britain, where they have dipped only 0.1 percent so far this quarter after months of sharp decline.
U.S. gross merchandise margins edged up slightly as lower diamond costs offset inflation in gold prices, which have prompted Signet to raise the price of jewelry with gold.
For fiscal 2011, the company expects those margins to remain level but cautioned diamond prices were "firming up."
Burman expects a higher number of U.S. store closings industrywide in 2010 and that the U.S. market was "overstored at this level of sales."
Burman also said he sees Signet's total square footage edging down by about 2 percent this year.
Signet shares rose 27 cents to $28.35 on the New York Stock Exchange at mid-afternoon.
(Reporting by Phil Wahba; Editing by Michele Gershberg, Dave Zimmerman and Richard Chang)
© Thomson Reuters 2023 All rights reserved.