Skechers posts surprise Q1 profit, shares jump
By Poojya Trivedi
BANGALORE (Reuters) - Shoe maker Skechers USA Inc (SKX.N) posted a surprise first-quarter profit, helped by a reduction in inventory and lower operating expenses, sending its shares up 19 percent.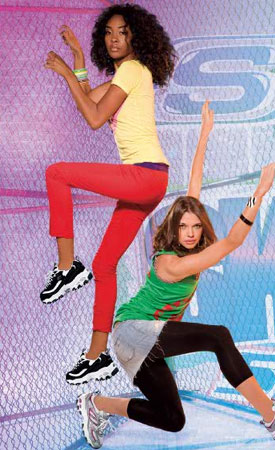 Skecher's for Women UK
"Skechers is well-positioned for long-term profitability and growth," Chief Operating Officer David Weinberg said in a statement.
The company, whose rivals include Deckers Outdoor (DECK.O) and Timberland (TBL.N), reported net income attributable to stockholders of $8.2 million, or 18 cents a share, compared with $32.8 million, or 70 cents a share, a year earlier.
Net sales at the company, which offers shoes under its namesake label and brand names such as Mark Nason, 310 Motoring, and Red by Marc Ecko, fell 11 percent to $343.5 million.
Analysts on average expected the company to post a loss of 4 cents a share, before special items, on revenue of $333.0 million, according to Reuters Estimates.
Sterne Agee analyst Sam Poser, who has a "neutral" rating on shares of the company, said he expects second-quarter earnings to remain flat to down sequentially.
The second quarter has been tough seasonally for Skechers, Susquehanna Financial analyst Christopher Svezia, who rates the stock "neutral," told Reuters by phone.
Inventory dropped by 34 percent to $172.9 million in the first quarter, while operating expenses fell about 4 percent to $119.5 million.
Skechers earlier this year said it was cutting additional operating expenses in all key areas of business and had reduced its headcount by about 3 percent.
The company reported a decline of 7 percent in domestic sales at stores open at least a year.
The company, which sells a line of footwear targeting teens and young adults, said it was launching a new subsidiary in Chile and selectively opening stores in the United States and other countries where it directly handles distribution.
Shares of the Manhattan Beach, California-based shoe maker were trading at $11.25 after the bell. They closed at $9.47 Wednesday on the New York Stock Exchange.
(Reporting by Poojya Trivedi in Bangalore; Editing by Anne Pallivathuckal)
© Thomson Reuters 2022 All rights reserved.