Skechers stock sinks after co sees weak Q4, '09 on inventory
By Dhanya Skariachan
BANGALORE, Feb 6 (Reuters) - Shares of Skechers USA Inc (SKX.N) fell more than 29 percent to a five-year low Friday, a day after the shoe maker forecast a surprise fourth-quarter loss and warned of a bleak 2009 as inventory-related costs ate into the company's margins.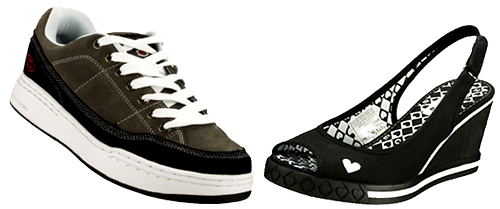 www.Skechers.com
At least two brokers cut their ratings on the stock, questioning the company's ability to control costs and manage inventory without resorting to write-downs.
Skechers, whose rivals include Deckers Outdoor (DECK.O) and Timberland (TBL.N), said it was hit by a significant decline in comparable sales at U.S. retailers and a large number of retail bankruptcies and going-out-of-business sales. [nBNG399958]
The company, which offers shoes under its namesake label and brand names such as Mark Nason, 310 Motoring, and Red by Marc Ecko, said it will continue to be hurt by these factors in 2009.
Several apparel and footwear makers have been struggling with higher inventory levels as retailers facing slumping sales and reduced consumer spending cut back on their advance orders.
Skechers expects buying plans at many of its key retail partners to be down about 7 to 20 percent across all merchandise categories.
The Manhattan Beach, California-based shoe maker, which expects to end the fourth quarter with $250 million to $260 million in inventory, plans to increase its reserves for inventory and accounts receivable by over $15 million. Fourth-quarter inventory levels are up significantly from $204 million at the end of the year-ago period, despite an inventory write down of about $12 million, Wedbush Morgan Securities analyst Jeff Mintz said.
"Although the company expects to work through this excess inventory in the first half of 2009, given the current environment, we are skeptical this can be achieved without further inventory write downs," said Mintz, who downgraded the company to "hold" from "buy."
Mintz, who cut his price target on the stock by more than a half to $6.50, also raised concerns about the company's tendency to overspend on selling, general and administrative purposes in the current environment.
Susquehanna Financial Group's Christopher Svezia also downgraded the shoe maker to "neutral" from "positive" citing the "dramatic shift" of outlook and management's lack of proactive steps to reduce operating costs.
"While management has cut headcount by 3 percent and slowed production from its third-party factories, we feel these actions are not aggressive enough and should have taken place sooner," Svezia said.
Skechers' shares fell to a low of $7.11, and were down $2.96 at $7.13 in noon trading Friday on the New York Stock Exchange.
(Editing by Anthony Kurian)
(([email protected]; Reuters messaging: [email protected]; within U.S. +1 646 223 8780; outside U.S. +91 80 4135 5800)) Keywords: SKECHERSUSA/SHARES
(C) Reuters 2009. All rights reserved. Republication or redistribution ofReuters content, including by caching, framing or similar means, is expresslyprohibited without the prior written consent of Reuters. Reuters and the Reuterssphere logo are registered trademarks and trademarks of the Reuters group ofcompanies around the world.nBNG417767
© Thomson Reuters 2023 All rights reserved.