SuperGroup presses ahead with float
By James Davey

LONDON (Reuters) - The company behind the Superdry brand worn by celebrities such as David Beckham said it plans to join the stock market, despite last week's decision by three much larger firms to abandon plans for listings.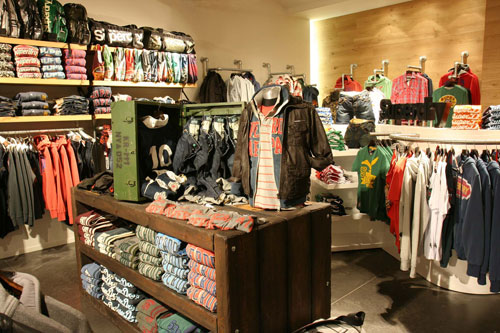 Superdry concept store
Two other companies announced their intention to float on Monday 15 February, indicating there is still life in the initial public offerings (IPO) market despite last week's high profile casualties.
SuperGroup said it would seek to raise about 125 million pounds through an institutional and retail share offer that was "subject to market conditions."
Analysts said the offer could value the fast-growing, profitable firm, which unlike recent IPO attempts is debt-free, at around 400 million pounds.
Promethean World, the company behind educational whiteboards used in schools, said it planned a listing that could value it at about 400 million pounds, while Healthcare IT firm EMIS Group said it planned to raise about 50 million pounds in an AIM listing that would value it at about 200 million pounds.
IPOs across the world have struggled as equity markets have faltered in a sluggish economic recovery. Of over 60 IPOs launched since December 1 about half have been shelved.
On Friday 12 February, budget fashion retailer New Look postponed its planned IPO making it the third private equity-backed firm in as many days to abandon a flotation in turbulent financial markets.
On Thursday 11 February, theme park operator Merlin Entertainments, said it would not launch its IPO in the near future. A day earlier travel services group Travelport abandoned its listing despite slashing the price range for shares by a quarter.
"SuperGroup is a highly profitable, fast growing business with significant potential for expansion in the UK and internationally," said Chief Executive Julian Dunkerton, who owns about 53 percent of the business.
Brand and design director James Holder and the CEO of the international and wholesale division Theo Karpathios each own about 20 percent.
The proceeds from SuperGroup's offer will be used to accelerate the group's plans for growth and enable the management team, including Dunkerton, and other stakeholders to cash in some of their investment.
SuperGroup, which also owns the Cult and Breed brands, trades from 40 UK standalone stores and 54 concessions in House of Fraser department stores and also has a presence in Belgium, France, Scandinavia, the United States and Australia, and an internet business.
Last month the group reported a 29 percent rise in like-for-like sales for the five weeks to January 3.
Seymour Pierce is acting as sponsor and sole bookrunner to the offer.
(Editing by Julie Crust and Sharon Lindores)
© Thomson Reuters 2023 All rights reserved.