Swarovski moves into horology
Swarovski is expanding into the horological sector. Presented at an advance preview in Bale, the first collection is no half measure, consisting of forty-five models in various shapes and innovative designs. The range proves once again that Swarovski is not lacking in daring.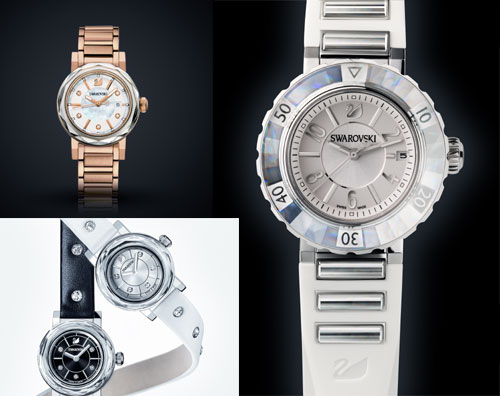 Octea Line
Round, rectangular or square, inlaid with Swarovski crystal or more simple, engraved faces or in the chronometer style, men's and women's, sporting or casual, wristband in steel or leather, some covered in crystals… It can be seen, the collection is so vast as to be able to appeal to a large audience drawn from men and women of all ages.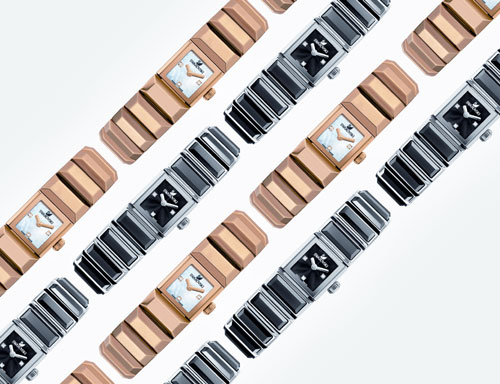 Baguette Line
Grouped into five families, including the Baguette will be released in a limited edition and numbered at the 2009 Cannes Film Festival, Piazza or OCTE, itself split into OCTE Sport, Mini or Lady, all models have a quartz movement "Swiss Made" and a sapphire crystal. A necessity for the brand. Because if some watches have already crossed over into the the world of jewellery it is with this first collection that Swarovski will make its entry into watchmaking. Stamping "Swiss Made" onto its models allows Swarovski to assure customers of its legitimacy, and that they push all the boundaries of their expertise.
The highlight of this collaboration: "D Light", is a watch which goes completely against typical Swiss models. Goodbye designs from grandpa's era, Swarovski transports us to the end of the twenty-first century. Dynamic and futuristic, it also offers new and graphic perspectives on what can be used to dress your wrists.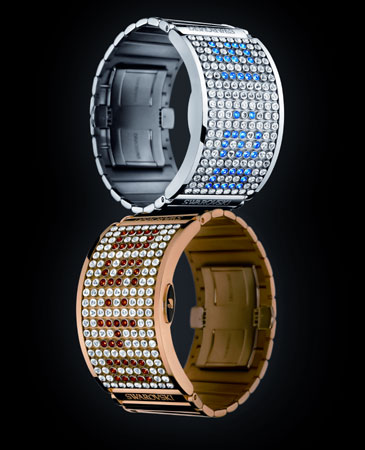 D Light de Swarovski
Made from quality steel, gold or silver, the is much more than a bracelet with machine which tells you the time. From first sight one is captivated by its rectangular screen covered in 171 Swarovski crystals which, at the touch of a button, light up; the crystals sparkle and, by turning red, gives the time. No moving hands then, nor an indication of date but a simple indication of the time. A feat of design which doesn't hide new technology; Swarovski has been studying the mechanisms for several years now.
As for the price, the collection has been planned for every budget, though you'll need between €400 and €1400 for the D-Light. The watched will be available in Swarovski boutiques, department stores and, a novelty, the crystal manufacturer has invited several top of the range timepiece retailers to distribute its collections as well.
By Jonathan Fulwell (Source: Emilie-Alice Fabrizi)
Copyright © 2022 FashionNetwork.com All rights reserved.