Swatch Group CEO eyes Sfr 8 bln revenue for 2012
The chief executive of watchmaker Swatch Group hopes revenues will touch around 8 billion Swiss francs this year and the firm aims to add 1,000 new jobs globally, he told a newspaper on Sunday.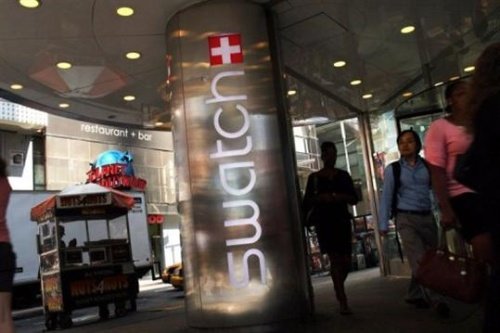 ©AFP/Getty Images/Archives / Spencer Platt- Swatch store in Times Square New York
Swatch Group chief Nick Hayek has been particularly vocal in his protest against the strong Swiss franc, which means Swiss exports become more expensive abroad.
The Swiss National Bank capped the franc at 1.20 per euro on Sept. 6, but is still about 30 percent stronger than in 2008 when Lehman Brothers collapsed.
"We want to get as close as possible to the boundary of 8 billion francs," he said in an interview with Der Sonntag. "That's possible if there are not political or economic catastrophes and the exchange rate remains stable or even improves."
Hayek, who took over the top job after his father unexpectedly died in 2010, said the current year had gotten off to a good start.
Earlier this month the group reported a double-digit percentage rise in watch and jewellery sales in January .
In January the firm said its sales rose to 7.1 billion Swiss francs in 2011 and 5-10 percent sales growth should be achievable in 2012.. (Reporting by Catherine Bosley; Editing by Elaine Hardcastle)
© Thomson Reuters 2023 All rights reserved.