Swatch Group chairman eyeing promising end for 2009
LAUSANNE, Switzerland, Sept 25 (Reuters) - Swatch Group (UHR.VX), the world's largest watchmaker, sees a promising end to the year as markets are starting to improve, Chairman Nicolas Hayek said on Friday 25 September.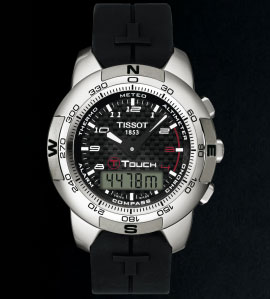 Tissot, part of the Swatch Group
"The United States is now semi-catastrophic after being catastrophic," Hayek said.
"Asia, the Far East and Russia were far less touched by the crisis and there the situation is improving. We are improving and the end of the year looks very promising," he said.
Swatch Group gave an upbeat outlook when it posted its first-half results in August, saying it expects demand to pick up in the second half as retailers were starting to order stock again.
Many retailers stopped ordering new products to run down stock built up during the boom years, while some struggled to get the necessary credit to buy goods after credit markets tightened.
The Swiss watch industry is facing its most severe drop in demand in 20 years as consumers spend less on luxury items due to worries about job losses and the shrinking value of their portfolios, but there are increasing signs the worst may be behind the industry.
Hayek was speaking at a press conference to mark the signing of an agreement between Swatch Group, its Omega brand and the International Olympic Committee to extended Omega's contract to be the official timekeeper of the Olympic Games through to 2020.
Hayek said Omega would invest around 1 billion Swiss francs over the next 10 years as it focuses on being the best in timing sport events.
Swatch Group, which is best known for its colourful plastic Swatch watches, also owns higher-end brands such as Breguet and Blancpain.
At 1108 GMT, Swatch Group sales were trading 1.1 percent higher at 236.20 francs, outperforming a near flat DJ personal and household goods index .SXQP. (Reporting by Katie Reid; Editing by David Cowell)
© Thomson Reuters 2023 All rights reserved.