Swatch Group in talks to stop supplying rivals
ZURICH/BIEL (Reuters) - Watchmaker Swatch Group (UHR.VX) has taken a key step in its plan to stop selling watch components to rivals, potentially undermining the Swiss watch industry by forcing other makers to source parts from Asia.
Swatch Group, which supplies the bulk of watch parts to Swiss watchmakers, including Richemont (CFR.VX), has started talks with Switzerland's competition watchdog, Chief Executive Nick Hayek said at the group's annual results on Thursday 11 March.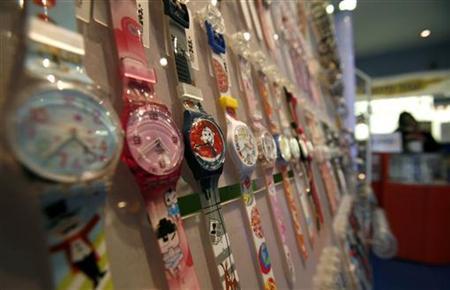 The world's largest watchmaker's move to cut supplies to rivals, forcing them to get parts from Asia, may undermine the "Swiss made" seal, which is seen by many as a guarantee of quality that underpins the industry.
Industry experts believe Switzerland's watch brands have become too dependent on Swatch Group and have not invested enough in engineering, preferring instead to splash out on fancy marketing campaigns featuring famous sports stars and actors.
A spokesman for the Swiss competition watchdog said Swatch Group had not yet delivered details of its plan to the body, while Hayek said the process of gaining permission to cut supplies was likely to take a long time.
"We have been forced to deliver our products, and in so doing also our know-how, to almost all the companies who asked for them; this situation created an entry level far too low for any company wishing to enter our industry," Chairman Nicolas Hayek said in the annual report published on Thursday 11 March.
"For over 20 years we have been requesting that these watchmakers develop their own production facilities for their timepieces," Hayek Snr said, adding the main Swiss watchmaking brands, who are also its customers, supported the group's move.
Swatch Group's manufacturing unit ETA, formed from a number of independent factories set up at the end of 18th century, is the lifeblood of the Swiss watch-making industry. It makes movements fitted in about 80 percent of Swiss watch brands.
Hayek Snr, who helped save the Swiss watch industry in the 1980s from the threat of cheap Japanese quartz watches, said in December he wanted to stop delivering to peers, broadening a move taken a few years ago to cut deliveries of watchmaking kits from 2011 onwards.
Swatch Group, which is behind top-end brands like Omega, Breguet and Blancpain, has seen strong demand for its timepieces so far this year and still expects 2010 to be its best ever year, Hayek Jnr said at the press conference.
At 12:17 p.m., shares in Swatch Group were trading 0.5 percent higher, while Richemont shares were trading slightly firmer and the the STOXX personal and household goods index .SXQP was 0.4 percent firmer.
(Reporting by Katie Reid, Robin Bleeker and Silke Koltrowitz; Editing by Andrew Macdonald)
© Thomson Reuters 2023 All rights reserved.