Swatch Group sees Asian demand driving growth
Feb 8 - Swatch Group, the world's largest watchmaker, expects price hikes and Asian appetite for Swiss timepieces to help it offset the negative impact of the strong franc this year.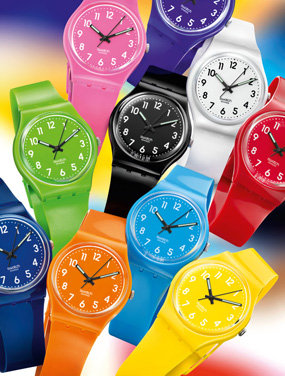 Swatch 'Color Code' collection
The group, which is best known for its colourful plastic Swatch watches but also owns higher-end brands such as Breguet, Blancpain and Omega, on Tuesday said prospects were good, despite the currency drag.
A rise in the franc versus the euro and the dollar is giving Swiss exporters a headache and watch manufacturers, which are particularly hard hit as the bulk of their costs are in francs, have had to raise prices.
Swatch Group could raise prices by 4-6 percent depending on the brand and the region, Chief Executive Nick Hayek told CNBC in an interview.
Hayek told Reuters last month that he would increase prices to combat the strong franc and higher gold prices.
Peers like Richemont or independent watchmaker Audemars Piguet have said they want to pass on the cost of the stronger franc and the rise in metal prices to their customers.
"Prospects remain good for the year as a whole, despite the current strength of the Swiss franc," the group said in a statement on Tuesday, adding that it aimed for sales of 10 billion Swiss francs ($10.45 billion) in the medium term.
Makers of watches, jewellery and luxury handbags are benefiting from roaring demand in Asia, where customers are snapping up Louis Vuitton handbags and Cartier timepieces, while Italy's Prada has chosen Hong Kong for its initial public offering.
At 1111 GMT, Swatch Group shares were 1.1 percent higher, outperforming a 0.6 percent drop in the European sector index .
By Silke Koltrowitz and Katie Reid

© Thomson Reuters 2023 All rights reserved.