Swatch group sees sales fall for top brands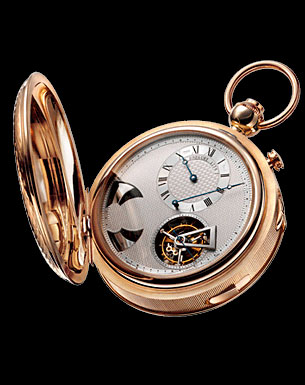 Breguet - Classique Grande Complication
ZURICH, July 16 (Reuters) - Swatch Group (UHR.VX), the world's largest watchmaker, has seen sales fall 10-20 percent for luxury brands like Breguet and Blancpain, Chief Executive Nick Hayek was quoted as saying on Thursday 16 July.
"The luxury watches of our group like Breguet or Blancpain have registered a fall of about 10-20 percent. But the comparison base with last year was also very high," Hayek told L'Hebdo weekly when asked about the first five months of 2009.
The fall was less for brands like Omega, Longines, ck, Hamilton or Swatch and Tissot has had better results than last year, apart from one negative month at the start of 2009, he said.
Hayek reiterated his upbeat forecast for the rest of the year: "The general situation is improving from month to month ... Our goal of arriving at a sales figure close to that of 2008, in local currencies, is maintained," he said.
In a separate interview published on Sunday 12 July, Hayek said he was confident demand would pick up in the second half.
The hardest hit markets remain the United States and Japan, where sales have fallen 40 percent and 30 percent respectively so far this year.
Russian sales in local currencies have fallen 60 percent, while a rise of 30 percent in Britain in pounds translates into a fall of 5 percent in francs.
He said operating margin could halve this year from last year's 21.2 percent although that would not be a bad result in the current environment.
The Swiss watch industry is facing its most severe drop in demand in about two decades as consumers scale back on spending and retailers focus on getting rid of old stock before ordering new goods. Swiss watch exports slipped 25 percent in the first five months of the year.
(Reporting by Silke Koltrowitz, writing by Emma Thomasson; Editing by Jon Loades-Carter)
© Thomson Reuters 2022 All rights reserved.