Swatch Group to cut supplies to third parties
ZURICH, Dec 18 (Reuters) - Swatch Group (UHR.VX) plans to stop selling watch parts to other watchmakers, the group's chairman said in a newspaper interview, a move that be a blow to an industry already grappling with a sharp drop in demand.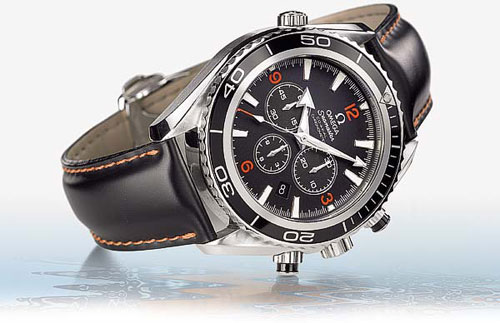 Omega, a Swatch Group brand
Swatch Group, the world's largest watchmaker, delivers the lion's share of watch parts to Swiss watchmakers, including rival Richemont (CFR.VX), through its ETA unit.
Demand for components has shrunk this year as the global economic downturn triggered the most severe drop in demand for timepieces in about 20 years.
"We no longer intend to produce or deliver to third-party watchmakers," Swatch Group Chairman Nicolas Hayek was quoted as saying in an interview published in Swiss daily l'agefi on Friday 18 December.
"Swatch Group could cope very well without (selling parts to other watchmakers). It only accounts for sales of around 300 or 400 million Swiss francs, which is some 7 or 8 percent of total sales," Hayek said. "The loss will be small compared to all the advantages we will get back."
Hayek said Swatch Group -- best known for its colourful plastic Swatch watches -- already had a team in place to discuss stopping delivery and production with Switzerland's Competition Commission.
Commission spokesman Patrik Ducrey said Swatch Group had not yet contacted the body.
Swatch Group declined to comment further.
At 1214 GMT, Swatch Group shares were down 0.4 percent, while Richemont shares were down 1 percent and the Dow Jones personal and household goods index .SXQP was near flat.
"This would send a bit of a bombshell through the industry if it happened as Swatch Group supplies about three quarters of the movements to the industry. It is quite a good business for them so I wonder if they really want to stop it," said Kepler Capital Markets analyst Jon Cox.
"I'm wondering if this is really serious, it seems an unusual thing to say and probably reflects the complaints they get from other watchmakers. I'd take it with a pinch of salt."
The competition watchdog launched an investigation into Swatch Group's ETA unit in September in reaction to complaints from some watch groups about ETA's price rises and changes in payment conditions.
Swatch Group, behind such brands as Omega, Breguet and Blancpain, has already struck a deal with the Competition Commission to stop supplying other watchmakers with kits to make watch movements from the beginning of 2011.
"This example of the kits could set a precedent. The question now is to find out how much time Swatch Group would give to third parties to adapt," said Ducrey of the competition watchdog. "One cannot force ETA to deliver components to the rest of the industry forever." (Writing by Katie Reid; editing by Karen Foster)
© Thomson Reuters 2023 All rights reserved.