Talbots bids adieu to Aeon; adds liquidity
By Martinne Geller and Phil Wahba

NEW YORK, April 7 (Reuters) - Talbots Inc (TLB.N) completed a financing deal that separates it from Japan's Aeon Ltd (8267.T), boosts its liquidity and allows it to overhaul its business more aggressively.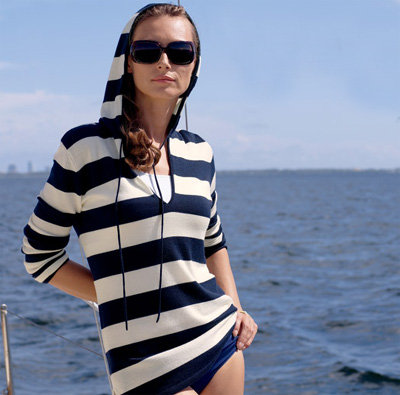 Talbots "Petite"
The women's apparel retailer closed the deal on Wednesday 7 April after reaching a required 90 percent acceptance on its exchange offer. It had repeatedly extended the deadline in the past week to hit that threshold.
"It was truly a life or death situation for Talbots as a corporation," said Stifel Nicolaus analyst Richard Jaffe. "Without this deal, Talbots would be illiquid."
Talbots shares rose as much as 5.8 percent earlier in the session on the New York Stock Exchange but pared those gain to close 2 percent higher.
Under the deal, Talbots purchased a company called BPW Acquisition Corp (BPW.A) by exchanging Talbots shares and warrants for BPW warrants. Shares of BPW rose 8.7 percent.
BPW is a special purpose acquisition company, a shell organization that raises money from public investors to merge with another company. Shareholders of BPW, which went public in February 2008 in a $350 million initial public offering, approved the merger with Talbots last month.
With the cash it received from BPW, Talbots paid down $486.5 million in debt owed to Aeon that was due later this month. In addition, the company said it bought back the nearly 30 million Talbots shares owned by Aeon, its majority shareholder.
Following the deal's closure, Aeon holds none of Talbots' debt or equity, ending the 21-year relationship between Talbots and Japan's second-largest retailer.
Talbots also said GE Capital, the financing arm of General Electric Co (GE.N), has provided an additional $200 million credit facility.
NEW LEASE ON LIFE
Shareholders of BPW -- whose corporate existence would have automatically terminated later this month if it had failed to reach a deal -- may now benefit from the ongoing turnaround of Talbots, which has been trying to revamp its image as a purveyor of staid clothes for older women.
"With BPW's cash on their balance sheet reducing their debt, it will reduce interest expenses... and also provide them with more liquidity to refurbish some of their older flagship stores," said Wedbush Morgan Securities analyst Betty Chen.
She noted that Talbots' customers have often been women in their 50s and 60s, but that the chain is trying now to court women in their 40s.
Chen, who has an "outperform" rating on the stock, said investors may also be more attracted to Talbots now that there will no longer be a single shareholder controlling more than 50 percent of the stock.
Chief Executive Trudy Sullivan, who left Liz Claiborne Inc (LIZ.N) in 2007 to take the reins at Talbots, has already allayed some fears on Wall Street about the company's future by selling its struggling J. Jill chain and exiting its mens' and Britain-based businesses.
Talbots shares finished 26 cents higher at $13.47 on the New York Stock Exchange, while BPW shares closed up $1.05 at $13.15, on the NYSE Amex. (Editing by Michele Gershberg, Robert MacMillan and Tim Dobbyn)
© Thomson Reuters 2023 All rights reserved.