Talbots' profit shows proof of turn, shares rise
(Reuters) - Women's clothing retailer Talbots Inc (TLB.N) posted a much better-than-expected quarterly profit and forecast higher sales as its turnaround efforts take hold, sending its shares up nearly 5 percent.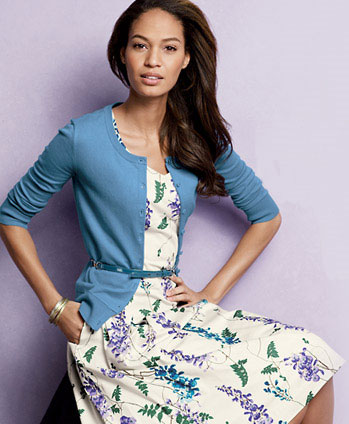 Photo: www1.talbots.com
Talbots had struggled with a string of losses, a heavy debt burden, declining sales and a stodgy image.
In the past year, the company has cut costs, changed management and revamped its styles to appeal to women in their 30s and 40s while still holding onto its core customers, who tend to be in their 50s or 60s.
"Before Trudy came, this company was in a time warp," said independent retail analyst Jennifer Black, referring to Chief Executive Officer Trudy Sullivan, who took the helm in 2007. "Had they not changed and become relevant, this company wouldn't still be around."
Black said a catalog of Talbots' upcoming looks for fall and winter were evidence of "the most dramatic change I think I've ever seen."
Last week, Talbots completed a financing deal that cut its ties with Aeon Co Ltd (8267.T), its controlling shareholder and Japan's second-largest retailer. The move boosted the company's liquidity and will let it proceed with the capital-intensive phase of its overhaul, including renovating stores.
Talbots reported net income of $4.1 million, or 7 cents per share, for its fourth quarter ended January 30, compared with a loss of $361.5 million, or $6.75 per share, a year earlier.
Excluding items, Talbots earned 13 cents per share. On that basis, analysts, on average, had been expecting a profit of 2 cents per share, according to Thomson Reuters I/B/E/S.
Talbots forecast sales to rise 4 percent to 5 percent in its current fiscal first quarter, and 3 percent to 5 percent for the full year.
Sales at stores open at least a year, a key gauge of retail health, rose in each of the last three months, Talbots said, with the strongest gain in March, when they rose 10 percent. Executives said the company was planning for same-store sales increases in the low-single-digit range moving forward.
FINDING ITS GROOVE
Talbots shares, which had earlier soared as much as 8.4 percent to their highest level since September 2008, closed up 71 cents, or 4.9 percent, at $15.10 on the New York Stock Exchange.
As of Monday 12 April, nearly 29 percent of Talbots' shares outstanding were held short, betting that the stock price would fall. That number is expected to drop as last week's deal increases the stock's total float.
Michael Scarpa, Talbots' chief operating and financial officer, said the company plans $40 million in capital expenditures this year, primarily to refresh and renovate stores and update its technology infrastructure.
Talbots expects to open at least five or six outlet stores in the back half of this year, CEO Sullivan said on a conference call with analysts.
She said in an interview that Talbots does not expect to add any more full-priced stores.
Sales at stores open at least a year fell 7.2 percent in the fourth quarter, which Talbots attributed to having much less markdown merchandise compared with a year earlier, when it had to offer steep discounts to move its clothes.
Markdown selling declined 21 percent, while sales of full-price merchandise rose 10 percent. Total sales fell 3.7 percent to $315.9 million, but topped analysts' expectations.
"Talbots' turn is well under way. Yet the impact of rebranding is just beginning to impact sales and benefits from sourcing have yet to occur," said UBS analyst Roxanne Meyer, referring to a deal Talbots signed last year with Hong Kong-based Li & Fung Ltd (0494.HK).
Sullivan said strong sales of sweaters and accessories like scarves, wraps and jewelry had helped overall performance at its 580 stores.
She said Talbots made "a tremendous effort" reaching out to younger shoppers, while trying not to alienate its more mature customers. So far, she said all but the most conservative were reacting favorably to the new merchandise.
She cited a letter she received from an 83-year-old woman saying, "You're finally getting your groove back."
(Additional reporting by Leah Schnurr; Editing by Gerald E. McCormick and Maureen Bavdek)
© Thomson Reuters 2023 All rights reserved.