Talbots sees Q3 sales drop, shares tumble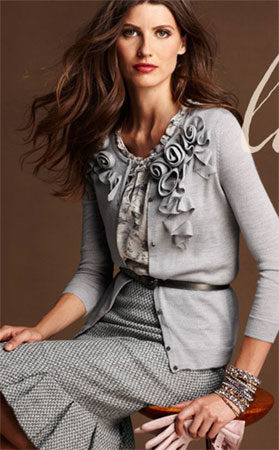 Talbots A/W 2010
NEW YORK, Oct 5 (Reuters) - Talbots Inc (TLB.N) warned that sales would fall during the current quarter after previously forecasting an increase, and shares fell nearly 11 percent.
The women's clothing store chain has been trying to turn around its business to cater to younger women and offer trendier clothing. But it has been hindered by heavy debt and declining sales.
Chief Executive Trudy Sullivan said customer traffic during the current quarter has been inconsistent, noting that that "is a reversal of the improving trends" during the first half of its fiscal year.
Talbots said third-quarter sales would fall in the low-single-digit percentage range, after earlier forecasting an increase.
For its full fiscal year, the retailer expects an overall 1 percent sales increase, somewhat below its earlier forecast of a rise by a "low single digits" percentage.
Talbots, which is hosting an investor day in New York on Tuesday, backed its adjusted earnings per share from continuing operations in the range of approximately 84 cents to 92 cents per share for the full year and a range of 22 cents to 28 cents per share for the third quarter.
Analysts have forecast earnings of 90 cents per share for the full year, and 27 cents for the current quarter, according to Thomson Reuters I/B/E/S.
Last month, the retailer reported second-quarter sales that missed estimates but was able to beat Wall Street's profit forecast because of higher gross margins.
It is targeting an annual growth rate of 4 percent to 6 percent per year through 2013 to reach total sales of between $1.4 billion to $1.5 billion. It also set a goal for gross margins to rise by between 4.5 to 5 percentage points by 2013.
Talbots, which operates 580 stores in North America, said it is targeting between 75 and 100 store closings, mostly by letting leases lapse, over the same period.
Shares were down $1.64 to $10.90 in premarket trading on Tuesday.
(Reporting by Phil Wahba, editing by Dave Zimmerman and Derek Caney)
© Thomson Reuters 2023 All rights reserved.