Tesco launches its online clothing store in Europe
Tesco's online clothing business in the UK is extending its delivery service to include international markets for the first time. The giant British retailer's F&F label is already an established brand and available in stores locally Poland, Czech Republic, Hungary.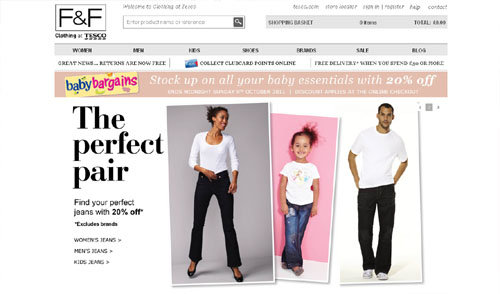 Tesco's e-store
From the beginning of October, Tesco is accelerating the expansion of its fashion business via the launch of its website www.clothingattesco.com in other European countries, including Spain and France. Customers will be able to order F&F products as well as other brands available on the website.
"Our loyal online following tells us they want to be able to buy fashionable, good value clothes from us and have them sent outside the UK", explained Tesco clothing director Jill Easterbrook. "Our customer call centre frequently receives queries from people all over the world asking whether we can deliver to their country. By offering a delivery service to customers in a number of European countries not only are we testing the popularity of such a service, but also gauging the response to our clothing offer in these new markets."
The new standard international delivery service will take between two to six working days and cost from £4.95. Since Tesco launched its online clothing business in October 2009, it has grown ahead of the market and in the last six months alone online clothing sales were up 45%. This summer Tesco also launched its click and collect service for clothing orders in the UK.
Copyright © 2023 FashionNetwork.com All rights reserved.