Tesco misses forecasts, non-food retailers suffer
Jan 13 - Tesco, the world's third-biggest retailer, missed Christmas sales forecasts as another string of British store groups said winter weather hit purchases of non-food goods.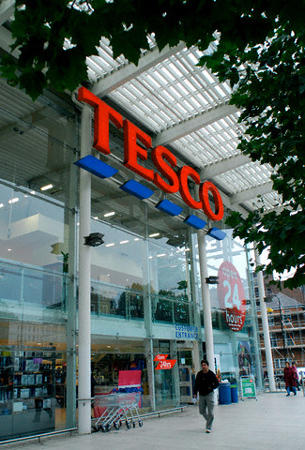 Tesco in London
The 0.6 percent rise in Tesco's underlying British sales was better than falls reported on Thursday by electricals specialist Dixons, general merchandise group Home Retail, computer games seller Game Group, bicycles chain Halfords and fashion group New Look.
However, it fell short of rises reported this week by supermarket rivals J Sainsbury and Wm Morrison.
"Disappointing," said Shore Capital analyst Clive Black. "Over the 2010/11 festive period Tesco UK has underperformed its peers," he said, trimming his full-year profit forecast 30 million pounds to 3.42 billion.
At 9:00 a.m., Tesco shares were down 2.1 percent at 414.8 pence, the biggest decliner in the blue-chip FTSE 100.
Finance director Laurie McIlwee said Tesco suffered because it was reporting over a shorter trading period than Sainsbury and also from having more out-of-town stores, which were more disrupted by bad weather, than rivals.
A strong performance a year ago and pressure on consumers from higher taxes and petrol prices did not help.
"It is a combination of lapping last year, tough budgets, very severe weather and incredible petrol inflation," McIlwee told reporters.
Tesco, world number three behind U.S. leader Wal-Mart and French group Carrefour, said group sales rose 6.2 percent excluding fuel and at constant currencies in the six weeks to January 8, with overseas sales adding to modest growth at home.
That pattern was likely to be mirrored when Carrefour publishes fourth-quarter sales after markets close on Thursday, as European shoppers worry about austerity measures.
BRITISH BLUES
In Britain, where Tesco accounts for about one pound in every seven spent at retailers, grocers had a better Christmas than most specialist chains as a trend towards one-stop shopping was exacerbated by bouts of heavy snow.
Tesco, which makes about two thirds of its sales and profit in Britain, said Christmas sales at British stores open at least a year rose 0.6 percent excluding fuel but including VAT sales tax.
That was a slowdown from a 1.5 percent rise in its fiscal third quarter and below a forecast increase of about 1.7 percent in a Reuters poll.
It was also below the 3.6 percent rise posted by J Sainsbury on Wednesday.
"A global giant like Tesco should not be judged on its UK like-for-like sales, but it will be and a LFL sales rise of only 0.6 percent is dull," Arden Partners analyst Nick Bubb said.
McIlwee said bad weather probably reduced underlying British sales by about 1 percent, and that while underlying food sales rose 1.7 percent, non-food sales fell 1.5 percent. That compared with a 7 percent rise in non-food sales during Christmas 2009.
Tesco gets about a quarter of British sales from non-food ranges, compared with about 15 percent for Sainsbury's.
McIlwee said electricals sales suffered because the group did not have enough hot-selling Apple products, while sales in toys and gaming were better. Excluding VAT, Tesco's underlying British sales fell 0.4 percent.
The group, with over 5,000 stores in 14 countries, said overseas sales rose 10.1 percent excluding petrol and at constant currencies, led by strong growth in China and Thailand.
Dixons, which runs the PC World and Currys chains, and car parts to bicycles retailer Halfords, both said full-year profit would be at the lower end of analysts expectations after falls in underlying British sales.
Dixons shares were down 6.2 percent.
The Co-Operative Group, Britain's biggest mutual retailer, reported a 3.2 percent fall in fourth-quarter underlying sales at food shops, while fashion group New Look said underlying sales plunged 9.1 percent.
Home Retail, however, posted a smaller-than-expected decline in underlying sales at its Argos stores and Homebase home improvement chain and said its profit forecast was unchanged, sending its shares up 8 percent.
Game Group shares also rose, up 16 percent, after it reported a smaller than expected fall in underlying British sales and said they were likely to start rising again soon.
By Mark Potter and James Davey
(Editing by Jon Loades-Carter and Dan Lalor)
© Thomson Reuters 2022 All rights reserved.