Tesco unveils 1 billion pounds plan to revive UK business
Tesco, the world's No. 3 retailer, said it would spend 1 billion pounds ($1.6 billion) this year overhauling its underperforming UK business and will rein in expansion as it seeks to win back market share and calm nervous shareholders.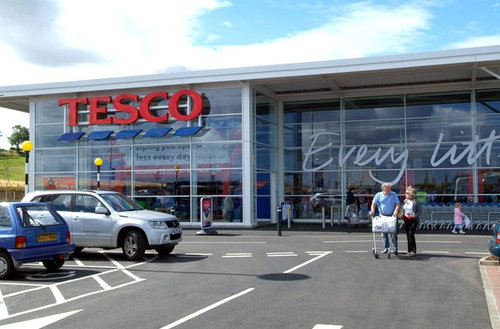 Tesco's North Berwick superstore / Photo: Tesco Plc
It said on Wednesday that the blueprint to revitalize its most important market, which it conceded was not a radical change of direction, would focus on improving staffing levels, smartening up stores and delivering better prices and product ranges.
But the focus on stemming falling sales in the UK and refreshing existing stores means overall group capital expenditure will be cut to 3.3 billion pounds in the coming year from 3.8 billion last year. This will mean new space added in Britain in 2012/13 will be 38 percent lower than in 2011/12.
"I'm announcing today our 1 billion pounds plan to put the heart and soul back into Tesco," Chief Executive Philip Clarke told reporters on a conference call after the group reported a small full-year profit rise that met market expectations.
"The plan isn't radical, isn't a radical change of direction, but it's a radical change of pace - more staff, better quality and range, warmer stores, friendlier service and a determination to do the basic things better," he said.
The firm dominates Britain's grocery sector with a 30 percent market share but in January issued its first profit warning in 20 years.
Tesco also said its Fresh & Easy U.S. business would break even later than previously anticipated.
"Our focus was to push the pace of expansion to reach breakeven (towards the end of the 2012/13 year) , I've decided now to focus on making the stores we have profitable first before pushing ahead with further higher levels of expansion," the CEO said.
Last month Clarke, who succeeded long-standing boss Terry Leahy in March 2011, jettisoned the head of Tesco's UK business, adding the role to his other duties and shouldering the day-to-day burden of getting the business back on track.
The uphill task facing Clarke mirrors that of Georges Plassat, incoming chief executive at Carrefour, who takes the helm at the world's second biggest retailer in June with a brief to turn around the group.
Carrefour, hit by both the euro zone crisis and longer-term structural problems, last week reported a plunge in demand for discretionary purchases like clothing and electricals and a deteriorating performance at its core French hypermarkets.
Tesco said group profit before tax and one-off items rose 1.6 percent to 3.9 billion pounds in the year to February 25 2012.
That was broadly in line with an average forecast of 3.88 billion pounds, according to a poll of 20 analysts compiled by the company, and up from 3.81 billion pounds made in the 2010/2011 year.
Trading profit in Britain, where Tesco accounts for about one in every 10 pounds spent in shops and makes over 70 percent of its trading profit, fell 1 percent, with sales at stores open at least a year falling 1.6 percent in the final quarter.
© Thomson Reuters 2023 All rights reserved.