The Brandery's future looks hazy
Disappointment and frustration filled the air as exhibitors gathered together for the fifth edition of Spanish trade show The Brandery. The event took place from July 13-15 in Hall 8 at the Fira de Barcelona exhibition centre, which is half of the space taken up by its previous editions. The first criticism pointed out a significantly reduced supply, with some 145 brands against 200 in July 2010, although marginally down from the 147 that attended the last January edition. The number of French brands, for example, decreased considerably in the space of one year. Among the ones which attended were Cop.Copine, Faguo, Hotel Manufacture and Carling.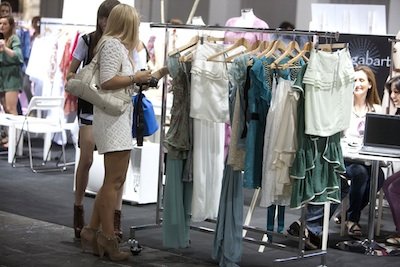 Women's sector at The Brandery
Exhibitors were equally unhappy with the fact that this edition was open to the public. Furthermore, they claimed that the loud noise coming from different events inside the hall was disruptive and made it difficult to hear what was being said at the stands.
Finally, many of them were disappointed with the low number of buyers, most of whom came from Catalonia. According to the fair's organisers, around 15,500 industry professionals attended the event, which is a noticeable decrease compared to the 16,500 present at last year's July edition.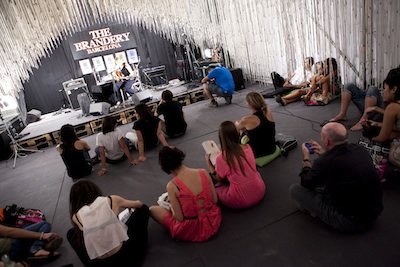 Noisy events were frowned upon at times
Several exhibitors were nevertheless pleased with the Brandery Speed Dating platform, which gave them an opportunity to meet up with buyers from the leading department stores in Europe for five minute 'speed dates'.
Many visitors expressed their worry for the Spanish trade show's future, as well as their attachment to the event despite the disappointing figures. A tone of regret was felt in their voices when many questioned whether they would come back next year.
However, it seems like the organisers have every intention of carrying on with the trade show, as its next edition is already scheduled for January 25-27. It is safe to say that it is going to take a lot of convincing to persuade exhibitors come back in 2012.
Copyright © 2023 FashionNetwork.com All rights reserved.