Tommy Hilfiger promotes the preppy look at IFM
Tommy Hilfiger had already got people in Paris talking about him after he took his Pop-Up Preppy House to the French capital, which was set up on the square right in front of the Centre Pompidou. Now, Tommy Hilfiger has returned to Paris, only this time to promote in person the preppy look. Together with Lisa Birnbach, author of the Preppy Hand Book, the American designer went to French fashion school IFM to talk to students about this style and the identity of his brand.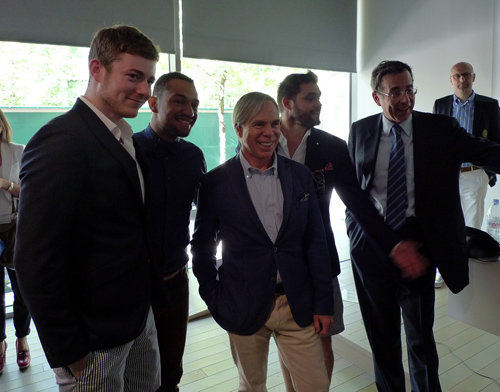 Tommy Hilfiger with IFM's director Dominique Jacomet and students.
Two of the students in the crowd caught the designer's attention, who was pleased to see them dressed in a preppy style and wearing all of the "codes" of his brand. Tommy Hilfiger then went on to announce that he wishes to soon add a homewear line to his brand's already large product line, which includes men's, women's and children's fashion, perfumes, household linens, etc.
By talking about "chic sportswear", New Hapstead, boat shoes, seersucker or even his competitors Ralph Lauren and Lacoste, the designer reinforced his brand's image, which was brought back into fashion many seasons ago. The designer said: "The preppy look has always existed and will always exist. We simply have to adapt it and open it to new influences, be it rock 'n' roll or bohemian".
Copyright © 2023 FashionNetwork.com All rights reserved.