Unilever aims for big hair day with Alberto buy
(Reuters) - Consumer goods group Unilever Plc/NV will buy U.S. hair and skin care company Alberto Culver for $3.7 billion (2.3 billion pounds) in the latest move to rebalance its portfolio towards higher growth lines.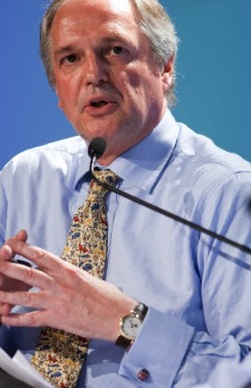 Paul Polman Unilever CEO. Photo : Corbis
Unilever's biggest acquisition in a decade will add brands such as V05, TRESemme and Nexxus to Unilever's existing Dove and Sunsilk, and make it the world's leading company in hair conditioning and the second largest in shampoo.
Analysts said the price of the deal looked high but could be justified by as-yet unspecified cost savings and by skewing Unilever's business to more high growth, high margin categories compared to its other food and detergent businesses.
The acquisition follows a yet-to-be completed deal to buy Sara Lee's bodycare division for $1.3 billion and will also mark Unilever's biggest acquisition since its massive $24.3 billion Bestfoods deal in 2000.
"The initial consideration for Alberto Culver of 14.8 times EBITDA (earnings before interest, tax, depreciation and amortisation) on the face of it looks quite punchy, but we believe 'significant' but as yet undisclosed synergies will make the price look more reasonable," said analyst Graham Jones at brokers Panmure Gordon.
Alberto Culver shares jumped 19.4 percent to $37.60 in early trading in New York by 2:45 p.m. British time. The takeover deal values Alberto shares at $37.50 each in cash, or a 19 percent premium to Friday's close of $31.48.
Unilever Plc shares were up 1.6 percent to 1,821 pence and the FTSE All Share index was up 0.1 percent, as other analysts said the deal would give Unilever greater haircare sales in the United States where it has struggled in recent years.
PERSONAL CARE
The deal will be Chief Executive Paul Polman's second big purchase since he took over the helm at Unilever in January 2009. Both the Alberto Culver and Sara Lee acquisitions are in personal care, the company's biggest and fastest growing business line.
"Personal care is a strategic category for Unilever and growing rapidly. Ten years ago it represented 20 percent of our turnover; strong organic growth has driven it to now reach over 30 percent, with strong positions in many of the emerging markets," Polman said in a statement on Monday.
Its brands will complement Unilever's existing brands like Dove, Clear and Sunsilk in hair care, and Pond's and Vaseline in skincare, and enhance the company's presence in emerging markets such as Mexico and also in the more mature markets of the United States, Canada, Britain, and Australasia.
Unilever's proposed acquisition of Sara Lee Sanex deodorant and Radox bodycare business, first announced last September, is priced at around 10 times EBITDA, a relatively low price to reflect the disparate collection of brands being acquired.
The European Union is still examining the deal and is set to rule by October 26. Analysts expect Unilever to be required to divest some deodorant businesses to clear the deal which it hopes to complete in the fourth quarter.
Alberto Culver made annual sales of nearly $1.6 billion and EBITDA of over $250 million in the 12-month period ending June 30, 2010. Analysts estimate 65 percent of sales are in the United States and less than 10 percent in emerging markets.
They said the deal would strengthen Unilever's number three position in global haircare behind Procter & Gamble with 23 percent and L'Oreal's 18 percent by adding Alberto's 2 percent to Unilever's 11 percent, while significantly improving Unilever's position in North America.
Analyst James Edwardes Jones at Execution Noble estimates cost savings could be around 150 million euros (128 million pounds) making it a sensible deal financially and also strategically.
"Financially the deal makes sense and should be about 1 percent earnings enhancing, and strategically it strengthens Unilever's number three position in haircare, particularly in America," he said.
The U.S.-based group has operations in nine countries, including the United States, Canada, Argentina, Mexico, Britain, South Africa and Australasia. It has six manufacturing plants and employs around 2,700 people.
In another personal care deal, PZ Cussons said it bought the tanning-products firm St Tropez from its private equity owner LDC for 62.5 million pounds.
(Editing by Sharon Lindores and Dan Lalor)
BusinessAfter reading this article, people also read:
© Thomson Reuters 2023 All rights reserved.