Uniqlo operator cuts outlook as Japan sales drag
TOKYO - Fast Retailing, Asia's top apparel retailer, trimmed its full-year operating profit forecast by about 4 percent after sluggish sales at its Uniqlo casual-clothing chain in Japan weighed on quarterly profit.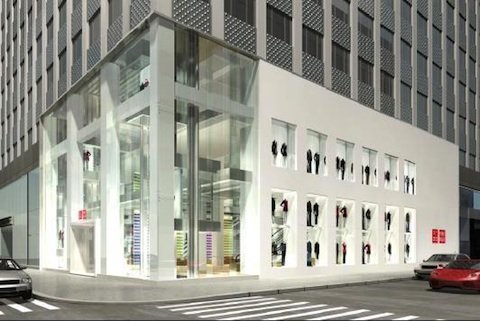 Uniqlo on Fifth Avenue in New York (Photo: Fast Retailing)
In a sign of progress in its global expansion, Fast Retailing enjoyed a nearly 60 percent jump in profit at its Uniqlo outlets overseas, but the segment remains a small contributor to its overall earnings.
The outlook cut may take some of the lustre off a Japanese stock that has been a favourite among overseas investors due to its limited exposure to the yen's strength and its perceived high-growth potential.
"The stage of domestic growth is over and the overseas outlook is unclear," said Mitsushige Akino, chief fund manager at Ichiyoshi Investment Management in Tokyo. "Its outperformance might not continue."
Shares of Fast Retailing, which competes with Zara owner Inditex, Gap and Hennes & Mauritz (H&M) , rose more than 8 percent in 2011, compared with a 17 percent slide in the benchmark Nikkei average.
Fast Retailing cut its operating profit forecast for the fiscal year ending in August to 130.5 billion yen ($1.7 billion) from 135.5 billion yen. The projection is slightly below an average estimate of 131.4 billion yen in a poll of 22 analysts by Thomson Reuters I/B/E/S.
In its September-November first quarter, Fast Retailing's operating profit dipped 2.8 percent to 48.45 billion yen ($629.88 million), reflecting a more than 10 percent profit fall at Uniqlo outlets in Japan, which account for about 70 percent of its total revenue.
OVERSEAS AMBITIONS
Fast Retailing blamed unseasonably warm weather for weak sales of winter items, as well as a dearth of new products. It also cited higher raw materials costs, a stronger yen and the costs of its overseas expansion for the drop in profit.
Even after a 14 percent surge in Japanese same-store sales for December as the weather turned cold, the company cut its annual Uniqlo Japan same-store sales growth target to about 1 percent from 5 percent.
"We don't want to view the second half too aggressively, so after taking an objective look we brought (the estimate) back down to a regular level," executive vice president Nobuo Domae told reporters.
Fast Retailing, which dominates in Japan with a market capitalisation five times bigger than second-ranked Shimamura Co , is now betting on growth in Asia to offset a tough market at home, where the sector has been hit by weak consumer spending.
Under its strategy to become the world's top apparel retailer by 2020, it aims to open 200 to 300 new Uniqlo stores annually, most of them in Asia outside Japan. It aims to generate more than two-thirds of its 2020 targeted revenue from the entire Asian region.
The company opened megastores in Bangkok, New York and Seoul during the quarter in its quest to amass annual sales of 5 trillion yen by 2020.
Before the results were released on Thursday, shares of Fast Retailing settled 0.5 percent lower, against a 0.7 percent fall in the Nikkei average. ($1 = 76.9200 Japanese yen)

By James Topham

(Additional reporting by Lisa Twaronite; Editing by Chris Gallagher)
© Thomson Reuters 2022 All rights reserved.