Versace to cut jobs, expects 2009 loss
By Marie-Louise Gumuchian
MILAN, Oct 28 (Reuters) - Italian fashion house Versace is cutting about a quarter of its global workforce and expects to post a loss this year, the latest luxury good maker to take a hit from slumping demand for designer items.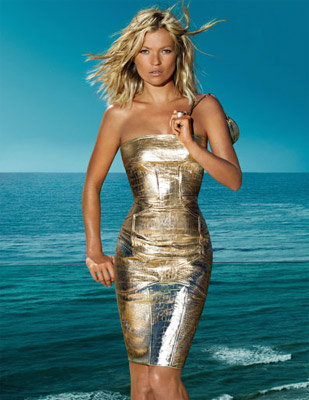 Versace publicity campaign Spring-Summer 2009
The celebrity-favourite designer, whose gowns are worn by Hollywood stars such as Angelina Jolie, said it is taking measures aimed at returning to profitability in 2011.
"No organisation can allow a situation like this to continue, especially considering the flat outlook for 2010," Chief Executive Gian Giacomo Ferraris said in a statement.
Versace, known for its Medusa logo, is owned by design head Donatella Versace, her brother Santo and her daughter Allegra.
Citing "severe trading conditions", Versace expects to have a pretax loss of 30 million euros ($44.5 million) this year, widening from a loss of 400,000 last year.
In an interview, Ferraris said Versace -- which undertook a previous restructuring only a few years ago -- expects annual turnover growth of 3 to 4 percent from 2011.
"We can recover the operating loss. We are recovering with actions and we have to have this plan done by the middle of 2010," he told Reuters at his elegant, monochrome Milan office.
Versace, which has a total workforce of about 1,300, will cut about 350 jobs worldwide in a reorganisation in which it will rationalise production facilities, review its store network, reduce capital investment next year and cut overheads.
EVERY AREA AFFECTED
Ferraris declined to specify where the job cuts would be made as in Italy talks need to be carried out with unions first.
"It will be worldwide. We will touch every area. The only area that we will not touch will be the core competence area -- design, product development and brand management," he said.
British fashion house Burberry Group Plc (BRBY.L) slashed jobs this year and France's Chanel cut 200 temporary jobs, while media reports said Italy's Prada this month signed a deal with a union to put 250 employees into "cassa integrazione", allowing them to be sent home temporarily on reduced pay.
Ferraris said Versace was analysing where it would close stores. "Clearly where there are loss-making stores we will close them, but in 2009 we are opening five stores," he said.
Versace has already said it is rebuilding its Japanese operations from scratch.
"In Japan we were in the wrong location. In this moment, frankly speaking, it is better to be out of Japan because Japan is drastically going down," Ferraris said.
"But we maintain the shell of the company there and we are preparing to recover and to re-enter in the proper location."
Two of the new stores will be in the United States. "We aim to be a trendsetter in the U.S.," Ferraris said.
Versace expects revenue this year to fall to 273 million euros from 336.3 million last year.
Ferraris, who was named CEO in June, declined to talk about the company's debt levels. "We are a private company. What I can say is that we are not changing our shareholder situation. We are normally using our credit line."
In recent years Versace, under Donatella's direction, has moved away from its trademark glitz and gold to more wearable outfits. "With Donatella we are trying to reshape our vision in the fashion, luxury market," Ferraris said. (Editing by David Holmes) ($1=.6740 Euro)
© Thomson Reuters 2023 All rights reserved.