Versace travels globe for latest home line
By Marie-Louise Gumuchian
MILAN (Reuters Life!) - Fashion house Versace takes a trip around the world in its new furniture collection by rolling out luxurious period sofas and majestic white beds for its wealthy admirers.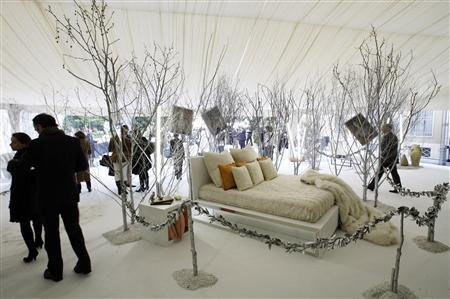 Presenting its homewear line at the start of Milan's Furniture Salon fair, the Italian designer's show apartment in a 15th century Milan palazzo was divided in themed rooms ranging from Los Angeles to Tokyo to Rome.
As well as sticking to a hallmark black and white combination, Versace also used a selection of browns, greens, blues, purples and pink for its stylish sofas, beds and chairs.
In "Rome", dark blues were used for a high-back sofa and velvet bed, where slippers stitched with "The King" lay on one side. Brown high-back chairs added to the regal mood.
A long white table decorated with fine china filled "China", where a white period sofa and a majestic white bed were positioned at either end of the room. Shiny chandeliers hung from the ceiling and purple high-backed chairs also stood tall.
Versace's Medusa head logo was evident, appearing on cushions in "London", which was decked out with black luggage and a mock flight timetable for the traveling man. Cube sofa chairs and low tables with layered interiors also featured.
Metals such as titanium were used, on display in the base of white and red chaises lounges. But possibly the centerpiece at the showing was a white bed with a stitched base and sparkly cover, surrounded by silver-sprayed branches in the atrium.
Versace also displayed a mock-up of its interiors for helicopters. The fashion house makes made-to-measure helicopter interiors and unveiled its first two to clients last month.
Design head Donatella Versace has moved the fashion collections away from the company's gold and glitter image to a more understated, wearable look.
At the new Versace Home boutique, which opened in Milan late on Wednesday, the theme was very much black and white for sofas and tables, with the odd silver detail on table legs and chairs.
China had the added Versace logo, as did silver and white vases. Arriving at the launch, Donatella Versace named a white chaise lounge as her favorite item in the store.
Versace branched out into homewear in the 1990s and the division turned 69.5 million euros ($110.9 million) in revenues last year. Chief Executive Giancarlo Di Risio told Reuters other openings were planned in Brussels, Dubai, New York and Paris.
(Editing by Paul Casciato)
© Thomson Reuters 2023 All rights reserved.