VF Corp misses by penny, shares fall 7 percent
SAN FRANCISCO, Oct 26 (Reuters) - VF Corp (VFC.N), home to such apparel brands as the North Face, Vans, Wrangler and Lee, posted earnings that missed Wall Street estimates by a penny on Monday 26 October, and shares fell 7 percent.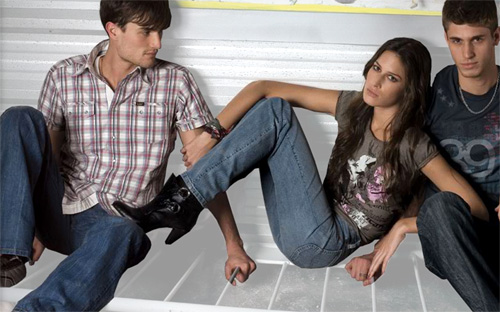 VF Corp - Lee
Although the manufacturer raised the low end of its 2009 profit range, it said consumer spending would remain challenged.
"We don't believe the global economy is out of the woods just yet," said Chief Executive Eric Wiseman during a call.
In the past, VF has held that it is more insulated from the global downturn than competitors given its broad base of brands and categories from jeans to outerwear.
The manufacturer said net profit in VF's third quarter fell to $217.9 million, or $1.94 per share, from $233.9 million, or $2.10 per share, a year earlier.
On the same basis analysts, on average, had been expecting earnings of $1.95 per share, according to Thomson Reuters I/B/E/S.
Higher pension costs and foreign currency exchange rates cut into profit, the company said.
Excluding those items, and accounting for a year-ago charge, VF said its earnings per share would have increased by 4 percent.
The company also increased its quarterly dividend by 2 percent to 60 cents per share.
CAUTION ON OUTLOOK
Revenue fell 5 percent to $2.09 billion. Despite the overall revenue decline driven by weakness in Europe, the company cited improving trends in its jeans business, with revenues down 7 percent in the quarter compared with a 12 percent decline in the second quarter.
VF said that its operating margins in its sportswear unit rose 400 basis points, helped by improvement in its underperforming Nautica wholesale business.
The company said it now believes 2009 earnings per share will range between $4.85 and $5.00, with revenue down about 6 percent.
In July it gave a range of $4.70 to $5.00 per share with revenue expected to fall between 5 percent and 7 percent.
Asked by an analyst why the company did not raise the high end of its profit outlook, VF Chief Financial Officer Bob Shearer said caution prevailed.
"As we look at the holiday season ... there's still a fair level of uncertainty relative to overall consumer spending, unemployment, all of those factors. So we are trying to take a cautious approach," said Shearer.
VF said the fourth-quarter would see more favorable foreign currency translation rates that would spur stronger revenue comparisons.
Fourth-quarter earnings per share would be "up sharply over 2008 levels," said VF, helped by the direct-to-consumer business, operating efficiencies and the lack of restructuring charges that hurt profit in the year-ago period.
Shares of the company fell to $73 in after-hours trade after closing at $78.49 on the New York Stock Exchange. (Reporting by Alexandria Sage; Editing by Steve Orlofsky and Carol Bishopric)
© Thomson Reuters 2022 All rights reserved.