VF Corp profit tops estimates, shares up
* Q4 EPS $1.35, excluding charge, vs Wall St view of $1.32
* Q4 revs fall 2 percent to $1.91 billion
* Outlook sees 2009 EPS of about $5.42
* Shares rise 1 percent
LOS ANGELES, Feb 10 (Reuters) - Apparel maker VF Corp (VFC.N) reported fourth quarter earnings that topped analysts' lowered estimates and said it expects "modest revenue declines" in its jeanswear, sportswear and imagewear businesses in 2009.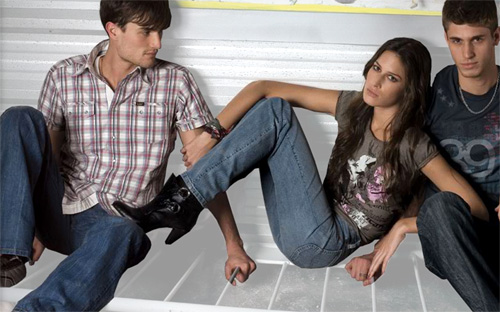 VF Corp - campaign Lee
VF, home to dozens of brands including Vans, Wrangler and The North Face, said net income fell to $115.9 million, or $1.05 per share, in the quarter, from $164.4 million, or $1.46 per share, in the year-ago period.
Excluding 30 cents per share for a charge related to cost cuts announced last month, VF earned $1.35 per share.
On that basis, analysts on average were expecting $1.32 per share, according to Reuters Estimates. Analysts had lowered their estimates from $1.46 per share after the company cut its fourth-quarter outlook in January, citing the impact of the consumer spending slowdown.
Quarterly sales slipped to $1.89 billion from $1.93 billion. Total revenue fell to $1.91 billion from $1.96 billion and the company said that nearly all of the decline was due to the effects of foreign currency translation.
The company said it anticipates "a low to mid single digit decline in revenues" for 2009, as foreign currency translation continues to weigh on results.
It also said that 2009 earnings per share "should approximate the $5.42 reported for 2008."
Analysts polled by Reuters Estimates were looking for a full year profit of $5.63.
Shares in the company rose to $54.83 in extended trading from their close of $54.24. (Reporting by Lisa Baertlein; editing by Carol Bishopric)
© Thomson Reuters 2023 All rights reserved.