Vogue labels Olsen twins best dressed sisters
NEW YORK - They have always been in vogue, but twin actresses and clothing designers Mary Kate and Ashley Olsen are now truly in Vogue, gracing the cover of the fashion magazine's newest best dressed issue.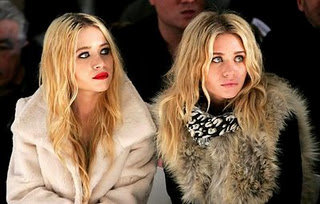 Mary Kate and Ashley Olsen / Photo: AFP
The widely-read edition, which was unveiled on Thursday and hits newsstands on November 15, puts its spotlight on nine global sister acts from British royalty, the Duchess of Cambridge Kate Middleton and her sister Pippa, to celebrity singers Beyonce and Solange Knowles.
Also getting special mention inside the pages are the French Courtin-Clarin foursome, granddaughters of Clarins cosmetics company founder, Jacques Courtin-Clarin.
"It's been a year of sisters, most famously with Catherine and Pippa Middleton," Mark Holgate, Vogue Fashion News Director and Editor of the best dressed issue, told Reuters.
Holgate credits the Middletons with popularizing their own mid-thigh length of dress: "short enough to be impossible for an older-generation royal to wear, long enough to be decent when sitting or bending down to talk to a child."
But it was the Olsen twins, who rose to fame as child stars on U.S. TV and as adults founded two successful high-end clothing labels, who were picked for the prestigious cover.
Holgate called the choice: "kind of a no-brainer."
"Are there any more chic, stylish, cool, and original sisters than Mary Kate and Ashley Olsen? They are incredibly stylish," he said of the twins.
The fact they have appeared on worst dressed lists in the past, including an annual one from late fashion critic Mr. Blackwell, is actually a positive thing, said Holgate.
FREE-THINKING FASHION

"They (the Olsens) get it right a lot of the time and then sometimes they don't get it right. That's actually great because it shows that it's their hands reaching into their wardrobes," explained Holgate. "They don't have someone telling them, 'This is cool, this is hot, this is what you should be wearing.' It comes from within them. It's instinctual.
"Look at what they've done with (their fashion labels) The Row and Elizabeth and James," said Holgate. "They are legitimate fashion forces."
The issue also highlights sisters with contrasting styles, such as the Maras -- actresses Rooney of the upcoming "The Girl with the Dragon Tattoo" and Kate, currently seen on TV's thriller series "American Horror Story."
The magazine notes that Rooney Mara looked like "a goth Pippi Longstockings" at a recent Rodarte fashion show while Kate Mara "exudes the glamour of bygone screen sirens."
"There was just something interesting about seeing how siblings' style can be so different and unique," said Holgate. "We started thinking about all of the great sister acts who are around right now who look really good together but also look good apart."
The colorful Solange Knowles, younger sister of pop superstar Beyonce, is known for taking style risks including shaving her head, donning afro wigs and mixing prints and colors. But she told Vogue in an interview that both their tastes are evolving and bridging the gap between their styles.
"I never borrowed clothes from Beyonce when we were growing up," said Solange. "But now my style is a little more tame and hers is a little more adventurous."
By Sabrina Ford
(Editing by Bob Tourtellotte)
© Thomson Reuters 2023 All rights reserved.