Wal-Mart CEO's compensation dipped last year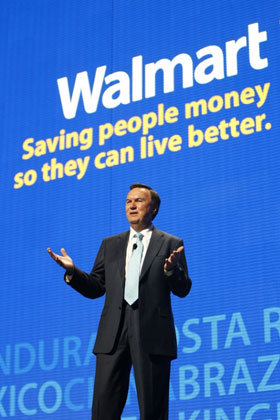 Mike Duke / Photo: Wal-Mart
Wal-Mart Stores Inc Chief Executive Mike Duke earned $18.1 million last year, down from $18.7 million in the previous year, as sales growth at the world's largest retailer fell short of its goals.
Wal-Mart also said Google Inc (GOOG.O) executive Marissa Mayer would stand for election to the Wal-Mart board at the company's annual shareholders meeting on June 1. If elected, Mayer would become the sixteenth member of the board.
While the huge Walmart U.S. business finally reversed its prolonged sales slump last year, overall performance and results at both Walmart U.S. and the international unit fell short of the company's expectations.
Duke's cash incentive payment in fiscal 2012 fell to just under $2.88 million from $3.85 million a year earlier and $4.8 million in fiscal 2010, Wal-Mart said in a regulatory filing on Monday.
Duke earned 71 percent of his target cash incentive payment for fiscal 2012, down from 97.4 percent in fiscal 2011 and 125 percent in fiscal 2010.
The board's nomination of Mayer, 36, underscores Wal-Mart's desire to become a better online and mobile destination for its shoppers. Mayer joined Google in 1999 as its first female engineer and has been its vice president of local and maps since 2010.
"We are on the cusp of a massive transformation in the way people shop in our increasingly connected world," Wal-Mart Chairman Rob Walton said in a statement. "Marissa's insights and expertise in the technology and consumer areas are valuable assets to Walmart as we move forward."
DUKE PAID LESS DESPITE U.S. SALES REBOUND
Throughout fiscal 2012, Duke said his top priority was to return to growth in sales at stores open at least a year - a key gauge of retail health known as same-store sales - at the Walmart U.S. chain.
Quarterly same-store sales at Walmart U.S. moved back into positive territory during the third quarter after nine consecutive quarterly declines.
Total sales rose 5.9 percent to $443.85 billion in the fiscal year that ended in January. Walmart U.S. sales rose 1.5 percent to $264.19 billion, with same-store sales up 0.3 percent.
Duke's salary was $1.26 million in fiscal 2012, which ended January 31, compared with $1.23 million in fiscal 2011.
His total payout of $18.1 million fell from $18.7 million in fiscal 2011 and $19.2 million in fiscal 2010.
© Thomson Reuters 2023 All rights reserved.