Warnaco profit tops view; gives better outlook
NEW YORK (Reuters) - Apparel maker Warnaco Group Inc (WRC.N) posted a higher-than-expected quarterly profit on Tuesday 12 May, helped by cost cuts, and raised the low end of its outlook for the year.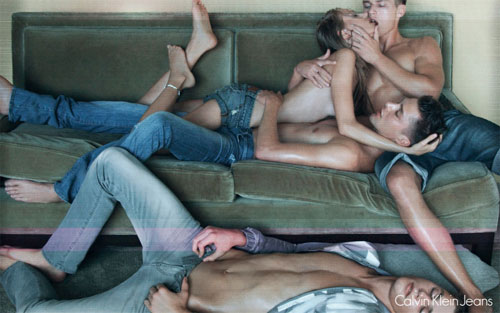 Calvin Klein jeans publicity campaign
Warnaco shares rose 7.5 percent in light premarket trade.
Net income rose to $37.6 million, or 81 cents a share, in the first quarter ended on April 4 from $17.7 million, or 38 cents per share, a year earlier.
Excluding costs such as those tied to restructuring, pension expense and some tax-related items, Warnaco's profit of $1 per share topped the analysts' average expectation of 74 cents, according to Reuters Estimates.
Sales at the maker of Calvin Klein jeans and Speedo swimsuits fell 5.1 percent to $538.4 million.
Warnaco supplies merchandise to department stores. Like other vendors, it has witnessed those chains suffer through months of weak sales and slashed inventory as recession-hit shoppers clamp down on spending.
In addition to selling its merchandise to a host of retailers, Warnaco operates Calvin Klein retail shops, mostly outside the United States.
Warnaco tightened its full-year outlook, saying it now expects to earn $2.50 to $2.66 per share from continuing operations. It also expects revenue to decline 9 percent to 12 percent.
Its earlier forecast called for earnings of $2.40 to $2.66 per share from continuing operations, and net revenue to fall 9 percent to 14 percent, hurt mainly by the impact of foreign currency exchange rates.
In November, New York-based Warnaco unveiled a cost-cutting plan that included cutting about 45 jobs and reducing capital spending and selling, general and administrative expenses.
Warnaco shares were up 7.5 percent at $31.00 in light trading before the market opened.
(Reporting by Aarthi Sivaraman; Editing by Lisa Von Ahn, editing by Dave Zimmerman)
© Thomson Reuters 2023 All rights reserved.