WGSN: GFA winners announced
WGSN, the global authority on style and design trends, hosted the second annual Global Fashion Awards in New York City last night, the 20th October 2011. The Awards were created in 2010 to recognize and reward innovative international talent and achievement within the fashion industry. The Global Fashion Awards, with a panel of judges and industry tastemakers, nominated a carefully selected shortlist of brands and designers for sixteen categories in June, 2011.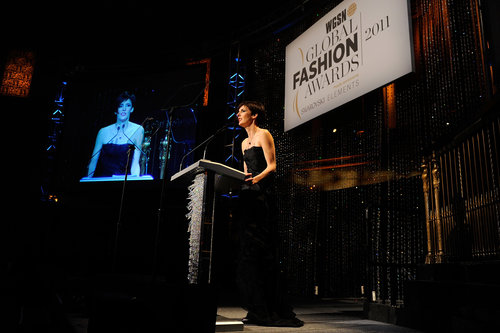 Susanna Kempe, CEO of WGSN speaks during the WGSN Global Fashion Awards at Gotham Hall on October 20, 2011 in New York City. (Photo by Andrew H. Walker/Getty Images for WGSN Global Fashion Awards)

The categories included awards such as Breakthrough Brand or Retailer, Breakthrough Designer, Outstanding Customer Experience and Outstanding New Store. Special guest presenters announced the winning nominee in each category at a celebratory champagne reception and gala dinner at Gotham Hall, 1356 Broadway, New York, NY 10018.
Award winners included
:
Most Influential Designer, Womenswear: Erdem
Breakthrough Brand or Retailer: Pretty Green
Best Etailer: Net-a-Porter
Breakthrough Designer: Michael Cinco
Most Influential Designer, Footwear and/or Accessories: Acne
According to Lauretta Roberts, WGSN Global Fashion Awards Director, the event attracted entries from Attracting entries from countries such as the USA, the UK, Israel, China, Norway, Australia, Japan, China, India, France, Mexico, Brazil, Italy, Sweden, Spain and Hong Kong.
Swarovski Elements, as a committed supporter of emerging talent and creativity, were the partner of the evening and supplied the beautifully crafted Global Fashion Awards" trophies for the prestigious 2011 Swarovski Elements "Winner of Winners" Award and a special Swarovski Elements Student Award. The winners were chosen by a specially selected grand jury the morning of the ceremony at a brunch hosted by WGSN at Mondrian SoHo.
The Global Fashion Awards judges this year were; Chee Au, Chief Creative Officer of Shanghai Tang; June Haynes, Senior Vice President of Retail for Valentino USA; Graeme Fidler and Michael Herz, Creative Directors, Bally; Dolly Jones, Editor or Vogue.com UK; Fern Mallis, Founder of New York Fashion Week; and Simon Kneen, Creative Director and Executive Vice President of Design at Banana Republic and Nadja Swarovski, Vice President of International Communications & Creative Director, Swarovski.
For a full list of The Global Fashion Awards categories, nominees, award winners and presenters visit
www.globalfashionawards.com
Copyright © 2023 FashionNetwork.com All rights reserved.