WGSN's Global Fashion Awards calls for participants
The Global Fashion Awards were created by WGSN in 2010 to recognise and reward those who are pushing the boundaries of fashion, propelling the industry forward and setting the style agenda on a global scale. The second annual WGSN Global Fashion Awards open entry launched on the 4th of April calling for all individuals and businesses working across the fashion industry around the world.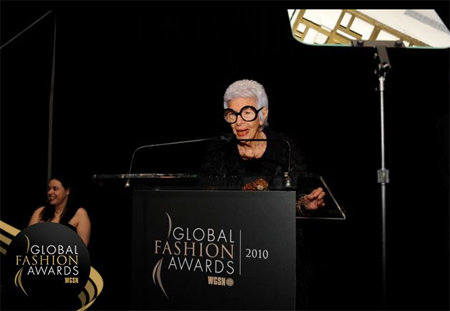 Last year's winner of the Global Style Icon, Iris Apfel
This year's categories again encompass all major business and creative disciplines in fashion including design, retail (off and online), buying, visual merchandising, store design, marketing and ethical practice. The WGSN Global Fashion Awards are the first and only awards that recognise these achievements on a global scale.
 
"The WGSN Global Fashion Awards celebrate the fashion industry as a completely connected, global platform.  In order to be successful in this universe, one needs the talents and expertise of a wide variety of players, from designers to business leaders, retailers to editors and marketers to models – it takes a whole village...but a very chic one". Fern Mallis, Founder of New York Fashion Week
 
The shortlist will be announced in London on the evening of the 20th of June at the St Martins Lane Hotel. The winners will be announced at a ceremony that will take place at the Global Fashion Awards' larger and more fabulous new venue, Gotham Hall in New York City on the 20th of October in front of  an audience of fashion's most influential industry insiders.
The winners will be selected by an expert panel of judges, made up of some of the most prominent people in the fashion and style industries, including designers, buying directors, stylists, merchants and marketing executives. The judges' panel was carefully selected by WGSN to ensure impartiality and global expertise. The 2011 panel includes:
 
Chee Au, Chief Creative Officer, Shanghai Tang
June Haynes, Senior Vice President of Retail, Valentino USA
Graeme Fidler and Michael Herz, Creative Directors, Bally
Orsola de Castro, Founder and Curator of the British Fashion Council's Estethica
Dolly Jones, Editor, Vogue.com UK 
Frances Card, COO, Matches
Simon Kneen, Creative Director and Executive Vice President of Design, Banana Republic
Averyl Oates, Buying Director, Harvey Nichols - Menswear, Womenswear and Accessories
Jana Ririnui, Founder and Director, Academy of Freelance Makeup
William Tempest, Founder and Designer, William Tempest
Daisy de Villeneuve, Illustrator, Designer and Writer
Rebekah Roy, Fashion & Celebrity Stylist

"The landscape of the fashion industry has become more transparent and open. The Internet and social media have fostered new relationships, opportunities and means of operation for fashion businesses and exposed the fashion marketplace to a new global consumer. As the largest and foremost style and design forecaster, WGSN is charged with finding and honouring the world's idea-makers - the ones whose actions and influence inspire the fashion industry and the broader consumer market" explains Susanna Kempe, CEO of WGSN
.
Copyright © 2023 FashionNetwork.com All rights reserved.