Who's Next and Première Classe launch in Dubai
With a rapidly expanding market, Dubai and the United Arab Emirates are getting ready to host the Who's Next and Première Classe trade shows. The first edition will be held between the 11th and 13th of October 2009 in this market that is rich in commercial opportunity.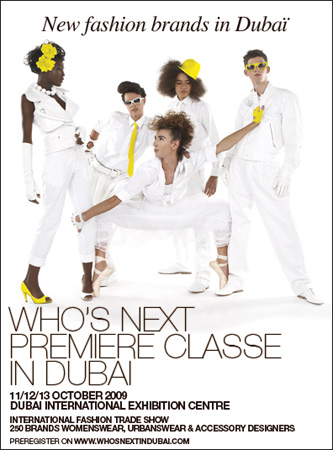 Who's Next and Première Classe in Dubai
The UAE, Gulf countries (Saudi Arabia, Kuwait, Qatar, Oman, Bahrain), Jordan, Syria, Lebanon, Libya, Egypt, and also the Maghreb, Iran, Kurdistan, Rajasthan, Pakistan, Russia, India and Eastern Europe… The first Who's Next and Première Classe trade show is counting on responding to a growing demand, particularly from the aforementioned countries.
"Dubai is the ideal place to develop fashion in the Middle East," explained Boris Provost, director of the trade show. "There, distribution is in full revolution and between luxury and large chains, there is a place to take. Of course there are large luxury groups but more and more independents and concept stores are opening their doors."
A godsend then for international brands that want to develop their export branches?
Belief is needed. "The only response in the face of the crisis is a strengthening mobilization in our markets, and those that may constitute sources of growth, such as the Gulf countries or China, which are suffering less or are hardly affected by the recession," confirmed the Comité Colbert, an association of leading French luxury brands.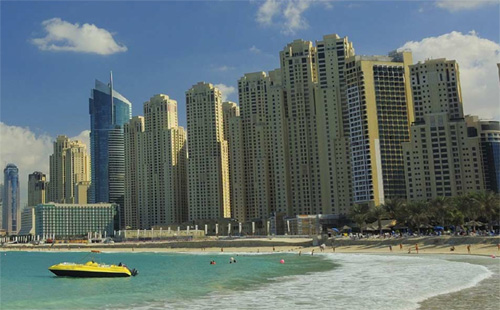 View of Dubai
Who's Next has therefore decided to export its know-how to Dubai and offer a professional platform for networking in the sector.
Installed in the Dubai International Convention and Exhibition Center (DICEC) over a surface of 12,000m², the organizers expect 250 brands for this first edition and more than 5,000 professionals to visit. Among the exhibitors, around 100 will come from France with others arriving from Italy, Spain and even Brazil. Their sector? Principally accessories and off-the-peg design as well as town and urban fashion.
For the moment, around sixty brands (fashion and accessories) has already confirmed their presence, including: Little Marcel, Old River, Osklen, Philippe Roucou, Repetto, Touch Luxe, Vanessa Tugendhaft Jewellery, Gerry St. Tropez, Jezekel and Quelle Peste.
So, is the Gulf destined to become the new oasis of prosperity for international fashion labels? Who's Next and Première Classe have laid solid foundations for that to become a reality.
By Jonathan Fulwell (Source: C. Vautard)
Copyright © 2023 FashionNetwork.com All rights reserved.