Who's Next PAP Paris: more foreigners, less French
The just ended Who's Next Prêt-à-porter Paris garnered a mixed review, following the move to change show dates from September to late June. Overall, the show lost 4% of visitors compared to the September 2011 edition, which was considered transitional.

The official number of visitors is 47,064, 36% of whom are foreigners, another 32% of whom attended the last two editions. The march toward internationalization marches on – slowly.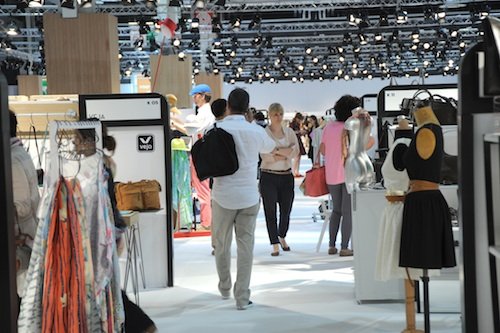 Première Classe at Who's Next PAP Paris (photo Pixel Formula)
Regarding international visitors, Europeans outside France were down 2.1%, to 11,468 visitors, no doubt a result of the crisis facing the old world continent. The figures also reveal a drop of 19.6% for the Italians and 7.7% for the Spaniards. Fortunately, Asian visitors numbered 2,760, a 52.8% increase. Japanese attendance even jumped by 88.6%, to 1,682 visitors. It is well known that Men's Fashion Week mostly explains such large numbers at this time of year, making it unclear whether Japanese attendance at Porte de Versailles was a dovetail effect from the other event.
Regarding France, the fact that the show was held the first Saturday of the French summer sales had a heavy impact, as predicted. Retailers from the French provinces were down over 21%, while Parisian visitors increased 7.6%, according to the show organizer. The figures do not indicate how long these visiting retailers spent at Who's Next or if they only conducted their primary business, being preoccupied by activity in their stores.
The consensus was that many efforts had been made to make the fair itself and the Porte de Versailles attractive. The next event will determine whether Who's Next Prêt-à-porter has met the challenge of establishing itself as the international trade show for women's clothing while still staying French.
Undoubtedly, the organizers will also look closely at the Mr. Brown men's sector, where exhibitors were not happy and which probably did not receive the number of expected visitors.
Ultimately, it will be interesting to compare this data with the results of the Berlin trade shows ending this Friday, at least to see whether the economic crisis is having the same effect everywhere.
Copyright © 2023 FashionNetwork.com All rights reserved.