Who's Next - Prêt à Porter Paris : June preview
For its first summer edition, moved forward to June 30, the Who's Next trade show - Ready to Wear Paris will present a new, more refined image, nurtured by the lessons learned from the first merged edition held last January. The main fault noted in January was the excessive subdivision within the Parc des Expositions Porte de Versailles; consequently, the show has abandoned hall 2 to better focus on Halls 3, 4 and 7 around a lively and unifying main aisle.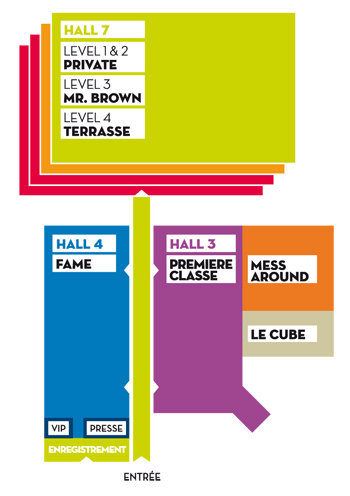 New map of the trade show Who's Next - Prêt à Porter Paris effective from next June 30 to July 3.
The new organization is much more logical, as evidenced by the future articulation of the accessories division in a single hall - 3. First class will thus consist this time of a single block, accompanied by the universe of Mess Around and Le Cube. Always aiming for clarity in the placement of brands, shoes should be collected within the same perimeter.
On the other side of the main aisle, the consolidation of first class which frees up hall number 4, will therefore be devoted entirely to Fame. The creative world of women should also win a place; although it will share it with the press and VIP areas.
Finally, Who's Next - Ready to Wear Paris will take full possession of Hall 7 to which the aisle leads. If levels 1 and 2 of the largest halls will still be occupied by the other space dedicated to women's ready-to-wear, Private, the upstairs level will house Mr. Brown. The mixed urban collection launched last January that had received a very warm welcome by visitors and exhibitors alike, will now have its own hall. And most importantly, just above it, will be the festive spirit of Hall 7 and its events.
In fact, Xavier Clergerie himself has been entrusted with the organization of this space by the operator of the Parc des Expositions, Viparis and not only for its show abroad.
Copyright © 2023 FashionNetwork.com All rights reserved.