Wolverine announce Bill Dodge as Vice-President
ROCKFORD, 31 August PRNewswire-FirstCall - Wolverine World Wide, Inc. (NYSE: WWW) announced the appointment of Bill Dodge as Vice President - Product Development for the Outdoor Group, and Mark Sandquist as President - Global Apparel. These senior leadership roles will help accelerate several of the Company's key growth initiatives for the Merrell, Patagonia Footwear and Chaco businesses. Both Bill and Mark will report to Jim Zwiers, President - Outdoor Group.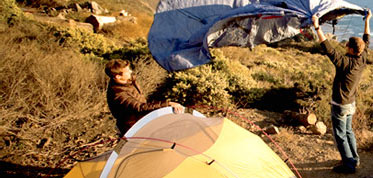 Photo: www.wolverineworldwide.com
Bill Dodge, who joined the Company in September 2008, was most recently General Manager of Patagonia Footwear and has a unique blend of experience in the outdoor footwear and equipment markets, including past management roles at Salomon, Timberland and New Balance. In this new role as Vice President - Product Development, Bill will leverage the resources of the Outdoor Group and its world-class design, development, supplier and industry partnerships to drive market-leading footwear innovation and development for the Merrell, Patagonia Footwear and Chaco brands.
Mark Sandquist, who most recently served as Vice President - Global Apparel, Equipment and Licensing at Columbia Sportswear Company, brings extensive outdoor, multi-brand and multi-category experience to Wolverine World Wide, with more than 20 years in the outdoor apparel industry. Mark will expand the Company's apparel platform and will have responsibility for all aspects of the Merrell Apparel initiative, as well as cross-brand responsibilities for the Company's accessories/bags areas and other select apparel initiatives.
Commenting on the appointments, Jim Zwiers stated, "Wolverine remains focused on executing its global growth initiatives, which includes growing Merrell into our first billion dollar brand and capitalizing on the potential of the Chaco brand. We are privileged to have Mark Sandquist and Bill Dodge enhance our already strong senior leadership team, and look forward to their contributions to drive innovative product creation and future growth. Mark's experience and past success in outdoor apparel will be instrumental in helping us grow our apparel platform. At the same time, the alignment of all Outdoor Group footwear product development under Bill's leadership will provide
synergies and help us realize the potential of the Merrell, Patagonia Footwear and Chaco brands."
Blake W. Krueger, CEO and President of Wolverine World Wide, commented, "Merrell's fanatical focus on product has resulted in exceptional growth over the last 10 years, growing from a $26 million dollar business to well over $400 million last year. These two new appointments within the Outdoor Group will accelerate the global momentum for the Outdoor Group brands and ensure the continued development of cutting-edge, industry leading product for our loyal consumers and retail partners. The Merrell, Patagonia Footwear and newly-acquired Chaco business present three distinct and compelling brand positions to meet the needs of the active outdoor consumer."
© Thomson Reuters 2023 All rights reserved.