Wolverine first quarter beats, lackluster view pushes shares down
By Shradhha Sharma
BANGALORE, April 20 (Reuters) - Shoemaker Wolverine World Wide Inc (WWW.N) reported a solid first quarter, getting a boost from the strong performance of its Outdoor unit, but a lackluster outlook pulled its shares down as much as 5 percent.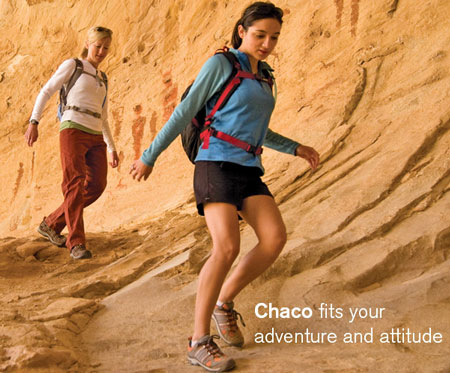 Chaco, a Wolverine brand
On a conference call with analysts, the company said it sees moderate revenue growth in the second quarter compared with the first, with inventory expected to trend between flat to down 5 percent.
Wolverine also forecast only a moderate expansion in full-year gross margin.
However, analysts said given current trends, the company was poised for growth in the second half of the year.
"They are waiting to see how their backlog comes together at the end of the second quarter, because they saw more orders earlier this year than last year," Sterne, Agee & Leach analyst Sam Poser said.
Shares of the Rockford, Michigan-based company touched a low of $29.66 in morning trade, but recouped some of their losses later and were trading down 3 percent at $30.21 Tuesday (20 April) afternoon on the New York Stock Exchange.
"There's a lot built into the shares of these footwear companies heading into results and I would not be surprised with these results to see a bit of profit-taking if nothing else," Stifel Nicolaus analyst Thomas Shaw said.
Wolverine shares have risen 65 percent in the last one year.
Strong boot sales last fall, which boosted profits at most footwear companies in the United States, are expected to continue into 2010.
Wolverine said its order backlog at end of the first quarter was up strong double-digits, with all brand groups showing significant increases.
"People are trying to get their hands around the changing dynamics of the way retailers are ordering product. It's a little tough to digest and people are trying to understand why top line doesn't look stronger relative to what seems to be pretty healthy trends across most of their brands," Stifel's Shaw said.
SOLID Q1
The company, which sells a range of casual, rugged outdoor and work footwear, posted first-quarter earnings of 54 cents a share, up from 21 cents a share, a year earlier.
Excluding restructuring charges, it earned 56 cents a share.
Revenue at Wolverine, whose brands include Caterpillar, Harley-Davidson and Hush Puppies, jumped 12 percent to $284.9 million.
"Clearly every element of their business is growing. They are gaining market share... the numbers will continue to move up and we'll probably use this as a buying opportunity if anything," Susquehanna Financial Group analyst Christopher Svezia said.
Analysts on average were looking for first-quarter earnings of 49 cents a share, on revenue of $273.1 million, according to Thomson Reuters I/B/E/S.
"The Outdoor group continues to be the company's largest revenue and earnings generator," Chief Executive Blake Krueger said on the conference call.
Sales at the Outdoor unit, which includes the Merrell, Patagonia and Chaco brands, jumped 16 percent to $113.5 million.
"It was a very good quarter. There are some fashion trends that are in our favor right now. The wind is in our sails, and we're going to take advantage of those," CEO Krueger said.
Wolverine said trading conditions and consumer confidence in most major markets have improved, and forecast 2010 revenue of $1.16 billion to $1.19 billion, compared with analysts' expectation of $1.17 billion. (Reporting by Shradhha Sharma in Bangalore; Editing by Aradhana Aravindan)
© Thomson Reuters 2023 All rights reserved.