Woody Allen objects to Farrow and Soon-Yi as witnesses
NEW YORK (Reuters) - Lawyers for film director Woody Allen asked a court on Monday 4 May to prevent American Apparel from calling his wife Soon-Yi Previn and his ex-girlfriend Mia Farrow as witnesses in an upcoming trial.
Allen sued the U.S. clothing company for trademark infringement more than a year ago seeking more than $10 million after his image was used on billboards in New York and Los Angeles without his consent.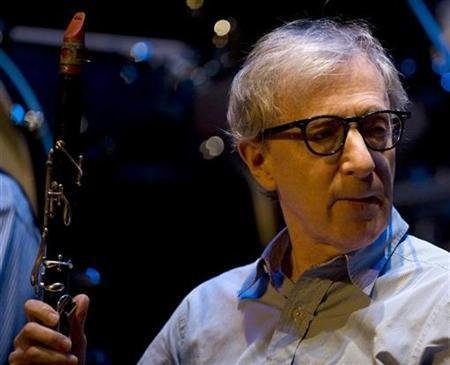 In court papers filed Monday, Allen's lawyers said a possible witness list provided by American Apparel Inc. included Allen, Farrow, Previn, his sister Letty Aronson and Hustler magazine founder Larry Flynt.
The motion filed in Manhattan federal court asks for a court order preventing American Apparel from calling witnesses and introducing evidence "concerning Mr. Allen's personal and family life."
The lawyers said any plan to put Farrow on the stand was "part of a brutish attempt to smear and intimidate Mr. Allen."
The possibility of calling such witnesses to the stand "all demonstrate the unmistakable intent to transform this trial into a spectacle," the court papers said. The trial is set to begin May 18.
American Apparel has argued that Allen overestimates the value of his image after various sex scandals. In 1992, Allen's then-girlfriend Farrow discovered he was having an affair with their 22-year-old eldest adopted daughter, Soon-Yi. Allen married Soon-Yi Previn in 1997.
A lawyer for the clothing company did not immediately return calls for comment.
In the advertisements, which also appeared on Web sites, Allen is dressed as a Hasidic Jew with a beard and black hat.
Allen's lawyers compared his case to that of Cary Grant suing Esquire magazine for publishing a photo in which Grant's head was superimposed on a child's torso.
"Like Mr. Allen, Grant was publicly known to be opposed to reaping commercial profits from the publicity sale of his identity," the court papers said.
Allen has directed more than 40 films and won numerous awards, including an Oscar for best director for 1977's "Annie Hall."
(Reporting by Christine Kearney)
© Thomson Reuters 2023 All rights reserved.