WSN : four shows for wider coverage
Initially, that is to say a few months after the acquisition of the Sodes fairs by WSN Development (Who's Next), officers of the company had announced plans to consolidate these second session shows by means of two entities, Premiere Classe for accessories, and another event for apparel.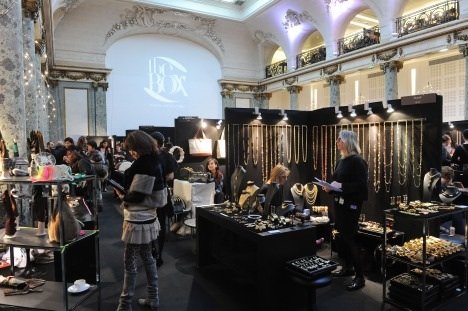 The Box will wear white for this edition (here March 2011, photo Pixel Formula)


At the March session, we will see The Box, Atmosphere's, inherited from the Sodes fairs, and Atelier Paris for fashion and Premiere Classe for WSN events. Upheaval has not taken place. But it will not be quite the same as before.

Certainly, Premiere Classe will keep its positioning as a creative show in terms of accessories with as many as 370 brands hailing from 23 countries (but of which 37% are of French origin, 17% Italian and 15% British) all presented on an area of 3000 m², versus 2900 m² previously. The offering will include 30 new brands. Jewelry will represent 29% of the offering, footwear 23%, leather goods 18.5%, hats10% and scarves 9%.
The Box is going to experience a big change with its physical configuration going from black to white. This does not seem like much, but black was the foundation of The Box since the beginning of this accessories show. Now white is the dominant color of the layouts at WSN. The show which is dominated by the jewelry offering, will open to shoes. At least for a preview. It was at The Box that the new premium line of shoes designed by Calvin Klein and designed by Raphael Young will be introduced. The show has grown overall by 30 brands that were present in the first shows in Premiere Classe.
Another change will take place in one of the Sodes fairs. Atmosphere's has lost its ranking going down from 120 to 70 brands with a therefore more streamlined selection. However it gains a transparent tent that will provide exhibitors and visitors a wider view onto the Tuileries Gardens.
More importantly, entry into the shows of the Tuileries Gardens will be granted to visitors without a ticket by Atmosphere's and Premiere Classe, considered thus as the references for all of WSN.
Copyright © 2023 FashionNetwork.com All rights reserved.