Yves Saint Laurent shows restrained femininity
PARIS Oct 3 (Reuters) - Yves Saint Laurent offered a superbly tailored but tempered collection for spring-summer 2012 on Monday, with designer Stefano Pilati drawing on the past of the famous luxury label without providing any jaw-dropping standouts.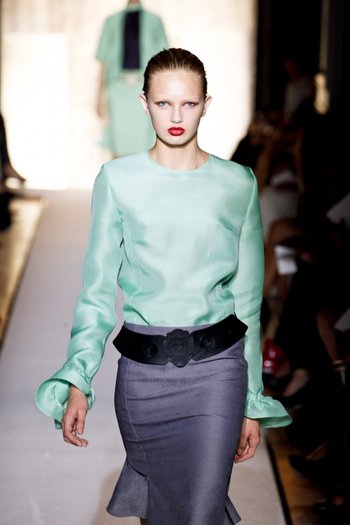 Yves Saint Laurent - SS 2012 / Photo: Pixel Formula
Mint and forest greens, greys and whites were the palette, with trapeze coats, cigarette pants and backless silk tops providing a nod to the 1960s and 70s, the heyday of Saint Laurent.
But the collection was restrained, as a counterpoint to the venue. Inside the opulent Hotel Salomon de Rothschild, models walked a circuitous catwalk that wove through six individual rooms, heavy crystal chandeliers and painted ceilings of angels and cherubs overhead.
The crowd included Australian pop star Kylie Minogue, French actress Isabelle Huppert, and Mexican actress Salma Hayek, who is married to Francois-Henri Pinault, chief executive and chairman of the PPR Group which owns the luxury label.
With insecurity the sentiment du jour, it might be best to show restraint. As the line notes for the show cryptically state, Pilati "forges ahead of the dull obscurities of the moment with a crystalline vision for Yves Saint Laurent".
LADYLIKE
Whether Yves Saint Laurent considers the global economic malaise to be dull or obscure was unclear. But the Italian Pilati showed none of the over-the-top exuberance seen in the recent shows in Milan, where bold primary colours, fringe, sparkle and shimmer seemed to shout "ciao!" to the euro-zone crisis and general sentiment of gloom.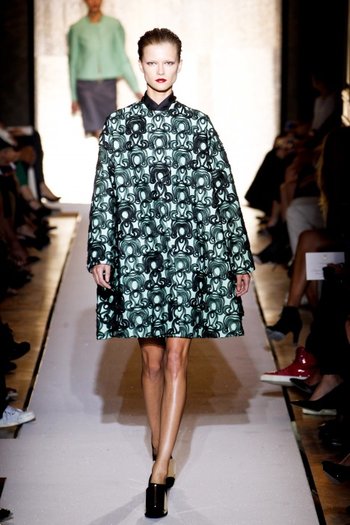 Yves Saint Laurent - SS 2012 / Photo: Pixel Formula
A mint-green swing coat ending at mid-thigh and overlaid with black tulle detailing jumpstarted the show and set the tone for ladylike looks that could have adorned a young Audrey Hepburn.
Skirts flared at the knee and pure white suits for ladies that lunch got a jolt of understated luxury with jacquard fabric.
The YSL signature ruffle at the wrist was in full force, with ruffles cascading down the sides of party dresses cut above the knee.
Pilati played with volume, with oversized, airy tops billowing around the sinewy models and lightweight pants sewn from printed silks that evoked Marrakech.
But the collection turned more assertive, as Pilati showed 1970s-inspired silk tops with fully exposed backs and a flowing black pantsuit evoking Studio 54 at its peak.
The voracious appetite of buyers in emerging markets, and tourists in Europe, has buoyed the luxury goods industry and helped it to continue to grow despite overall challenges in the retail industry, where shoppers and buyers alike have cut back on spending.
Luxury brands Hermes , Lanvin, and Louis Vuitton have said the downturn has had no impact on sales.
PPR is due to publish third-quarter sales figures later this month.
The luxury goods company categorically denied rumours last week that Pilati would be replaced by Raf Simons, currently designing for Jil Sander.
PPR's stable of brands include Gucci, Alexander McQueen, Balenciaga and Stella McCartney, who showed a girly, breezy collection earlier on Monday.

(Reporting By Alexandria Sage; editing by Andrew Roche)
© Thomson Reuters 2023 All rights reserved.